Top Selling Denim Trends for 2023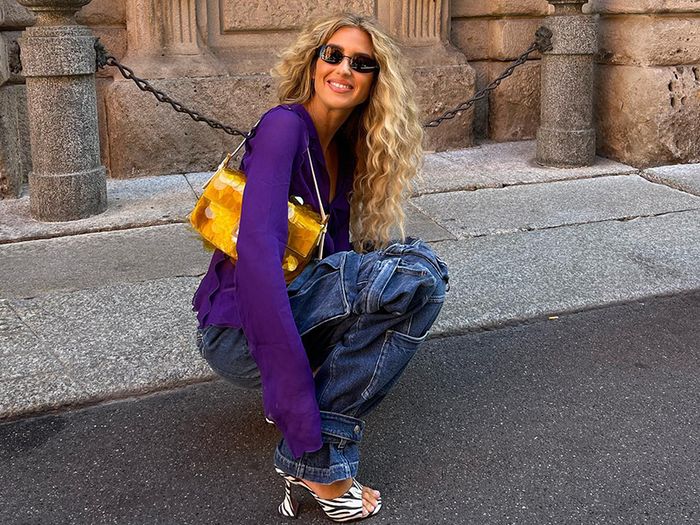 Denim is always in style and almost ubiquitous in women's fashion. And with good reason: it is the ultimate wardrobe staple to wear dressed up or down effortlessly.
But just when you thought you had your denim game on lock, the fashion gods decided to shake things up with spanking-new trends. Thankfully, we have the scoop on the top-selling denim trends you need to know about, from denim-on-denim to drop-gorgeous boot-cut jeans.
However, before we dive into the trends, let's take a moment to appreciate the versatility of denim. It is like the chameleon of fabrics; it can adapt to any occasion. Need to look professional for work? Throw on a denim blazer. Are you going for a casual look? A denim jacket and jeans will do the trick.
And let's not forget the trusty denim shorts and denim skirts – they are perfect for a picnic in the park, running errands, or a night out on the town.
1- Denim on Denim
Double the denim is equal to double the fun! That's right, ladies; the denim-on-denim (AKA the Canadian Tuxedo) is back, bolder, and better than ever. The trend is about taking two of your favorite things—denim tops and denim bottoms—and marrying them for a match made in heaven.
Many celebrities and fashion icons, including Bella Hadid, Jennifer Lopez, and Priyanka Chopra Jonas, have rocked the denim-on-denim trend. So it is no wonder to regard the street style as a bold and unique look.
Think about it, a denim top is like the bread to your sandwich, while denim bottoms are the fillings, and together they make the ultimate denim feast. And the best part is you can play with different shades, fits, and textures to make it your own. You can go for the classic light-wash-on-dark-wash look or mix and match different shades of denim for a unique look.
But before you go all matchy-matchy with your denim, remember that pulling off this trend is all in the details. A belt, statement jewelry, or a scarf can add an extra touch of style to the outfit. And remember shoes, as a nice pair of boots, sneakers, or heels can elevate the overall look.
When it comes to fit, ensure to keep your denim pieces balanced. Too loose, and you will look like you are wearing a burlap sack; too tight, you will have a denim-clad sausage situation on your hands. Double denim might be bold, but it can be a stylish and unforgettable look.
2- Sexy Denim Shorts for Women
Denim shorts have been around but are still going strong in 2023. These women's shorts from Sanctuary are a practical, stylish, and versatile choice that can be worn on many occasions, whether on a beach day or a night out.
Trendy denim shorts come in various colors, from classic blue to black, white, and even colored denim. In addition, some come with embellishments such as studs, embroidery, or beading, adding a touch of fun and personality to the look.
The mini denim shorts trend is about to take over summer fashion. Unfortunately, we are talking about shorts so short that they make Daisy Dukes look like capris. But do not be intimidated; these tiny denim wonders are not just for the daring fashionista.
Denim minis are perfect for showing off those legs you have been working on at the gym or making a statement at your next pool party. Plus, they are versatile enough to be dressed up or down. Team them with a cute top and strappy sandal heels for a night out or with a t-shirt and your favorite sneakers for a casual look.
One of 2023's most popular denim shorts is cut-off shorts made from cut-off denim pants. You can customize them to different lengths and styles, such as frayed, distressed, or raw-hemmed. Cut-off shorts are a great way to add a touch of edginess to any look.
Another popular denim women's shorts style is the high-waisted shorts, which sit at the natural waistline, creating a flattering and elongated look. They can be paired with various tops, from t-shirts to blouses, or dressed up with heels or down with sandals.
3- Sustainable Patchwork yet Chic Denim Skirts
Denim skirts are a must-have for any fashionista looking to stay on trend this spring and summer. And let's say the fashion industry has been busy coming up with new styles for us to swoon over.
From the catwalks to the streets, denim skirts quickly take over in all shapes and sizes. So you have your maxi skirts perfect for channeling a bohemian vibe, miniskirts for a cute and casual look, and everything else.
Of course, when it comes to waistlines, low-rise is where it is, as seen on the runway by fashion heavyweights like Valentino and Chanel.
But it is not just about length and waistlines; designers are getting creative with patchwork and up-cycling techniques to give denim skirts a fresh and unique twist. Patchwork skirts made from surplus fabrics and multi-colored skirts are all the rage. One thing to note is that Gen-Zers are ditching the classic blue for black and pink denim skirts to add color to their summer and spring outfits.
4- Wide-Leg Denim
Wide-leg denim is coming back in 2023, offering a more relaxed and comfy alternative to skinny jeans. Look for high-waisted styles with flared or wide legs for a retro-inspired look.
They go hand in hand with distressed denim pieces. The latter trend is characterized by ripped, frayed, and worn-out details on jeans, shorts, and jackets.
5- Boot-cut Jeans
Boot-cut jeans are the unsung heroes of the denim world. They may not be as flashy as skinny jeans or as trendy as wide-leg jeans, but they are versatile. These denim pieces can adapt to any situation; boot-cut jeans got your back at a fancy dinner or casual hangout.
Boot-cut jeans are easily the Goldilocks of the denim world. They are not too tight or not too loose but just right. They are perfect for those who want to show off their favorite shoes. Whether rocking ankle boots, sneakers, or heels, boot-cut jeans give you that extra room to breathe and showcase your favorite kicks.
Let's remember that the booty, boot-cut jeans are the ultimate booty-shapers. They will give you that lift and definition, making you look and feel amazing. So, feel free to give boot-cut jeans a chance. They are the most exciting denim trend for 2023 and can also be reliable and stylish.
Wrap-Up
Denim is undoubtedly a versatile and timeless fabric for pretty much any occasion. The denim-on-denim trend is returning and is all about pairing denim tops and bottoms for a bold and unique look. Denim shorts are another popular trend— they are practical, stylish, and versatile, not to mention they come in an array of colors and styles such as cut-off, high-waisted and mini shorts.
We must remember boot-cut jeans, wide-leg denim, and patchwork denim skirts. The five trends can be easily incorporated into your wardrobe and dressed up or down depending on the occasion. Remember, the key to pulling off these trends is all in the details, so have fun with accessories, shoes, and fit to make them your own.