iOS App Development Trends to Watch Out For in 2023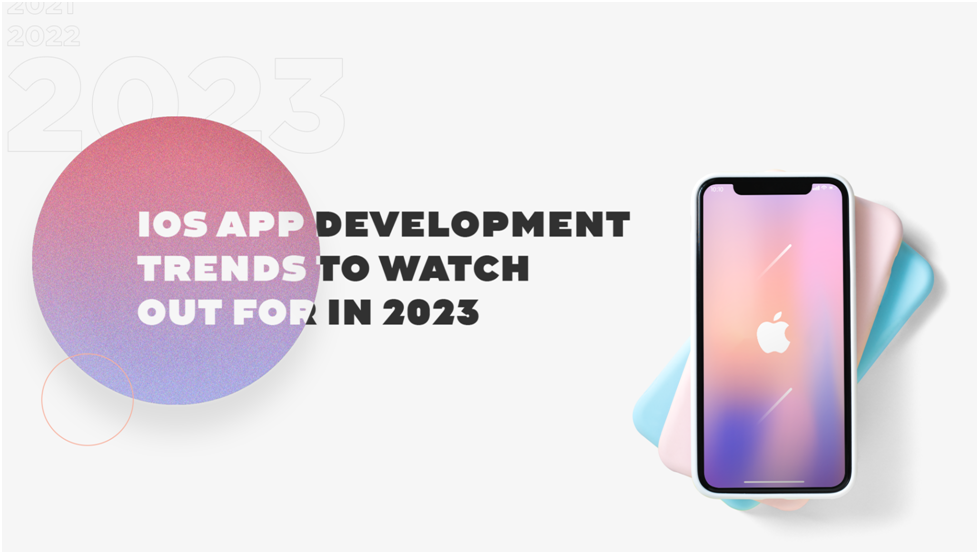 Every new year brings some new trends with it. There are also some of the evergreen ones that never go out of fashion and tend to be the developer's and the user's favorites. It's very important to analyze the trend and integrate it into the software. To help you know about all the important iOS app development trends, follow them, and get timely benefits in the industry, we have curated a list of the trends to watch out for in 2023.
1) iOS 17
iOS 17 will be on its way and soon be a part of iPhone users. The New iOS version will bring several changes in the way we use our Phones. Rumors about new features are in the market involving new improvements, revamped experience, privacy, and security features, new app store experience, and different ways to customize Apple devices. There are also talks about amazing AI features and abilities, a notification center, a new home screen, and many more interesting things on the way. If you are an iPhone app developer, you need to consider learning and integrating all these into your new mobile app development projects.
2) Application for Wearable
Every individual has one or the other wearable device with them. This is why it is very important to create wearable apps to connect all devices and control them with mobile. iOS app development for wearable is done for fitness bands, smartwatches, and trackers, providing amazing features like oxygen level, blood pressure, heart rate, and steps walked. The latest iOS application goes way further than that. They have interesting and upgraded features. Wearable apps can detect panic attacks and know about panic attacks based on the pulse. According to the announcement made by Apple, Apple Watch 6 will be integrated with Apple App Store. This means there will be significant growth in iOS application development for wearable devices. You don't want to miss this trend. In fact, stay ahead of it for maximum benefit. Smart watches and smart bands are one thing but the concept of smart rings is becoming highly popular which have surprising features like panic buttons and car locking.
3) Go Cashless With Apple Pay
The success of Apple Pay has taken the world on a roll and proved to be a great benefit to both users as well as for iPhone app development company. Apple users can go out cashless and still be able to buy whatever they want whenever they want with just a few taps and swipes. All thanks to Apple Pay. Mobile devices not just work as a medium to communicate but are also converting themselves into digital wallets and Apple plans to integrate Apple Pay into more and more popular. If you are on to develop an eCommerce application targeting the iOS platform, this is a point to consider thoroughly.
4) Security Being A Sure Shot
Apple might be facing security threats. Although, iOS is targeted less compared to Android for mobile malware Apple want to be on top when it comes to the safety and security of their devices, and apps, and keep the data of their users safe. The nature of the iOS operating system is closed which keeps it secure and under tight control for the apps developed and published on the App store eliminating the possibility of security threats. Keeping this aside, the company is creating a variety of frameworks and kits to avoid any data leaks and security breaches. CloudKit, SiriKit, ReplayKit, DriverKit, and ARKit are some of the frameworks having user privacy and built-in app security. Apple has also launched ATS (App Transport Security) a networking feature targeting a higher level of security in iOS apps, web services, and their extensions.
5) iBeacon
The way businesses and enterprises do marketing is changing significantly. With the advent of iBeacon, it has become an integral part of marketing strategies. It uses Bluetooth signals and allows the business to send information and notifications directly to the users. This makes it an effective tool for targeting local users. iPhone app developers are at the disposal of opportunities to build innovative apps with this trend. One of the ideas to use this technology is the sensor in a store automatically connects to nearby Apple Devices and send notifications about discounts, deals, and offers. Enhanced customer experience will increase sales.
Wrapping Up
So, now you know what's happening in the market and how you can be a part of these trends and stay ahead in the market. Make the most of this opportunity and be an asset as an iPhone Developer with the right knowledge, and use the gathered knowledge for a better return on investment.
Author Name: Pratik Kanada
Author Bio
I am Pratik Kanada, founder & CEO of 360 Degree Technosoft, an iPhone and Android app development company that makes app ideas into reality by providing unique design and development services across the globe. To keep up with the trend, I have also laid steps into React native and ionic app development. I generally write blogs on mobile technology, app development, and app marketing.