Examples of Artificial Intelligence in Healthcare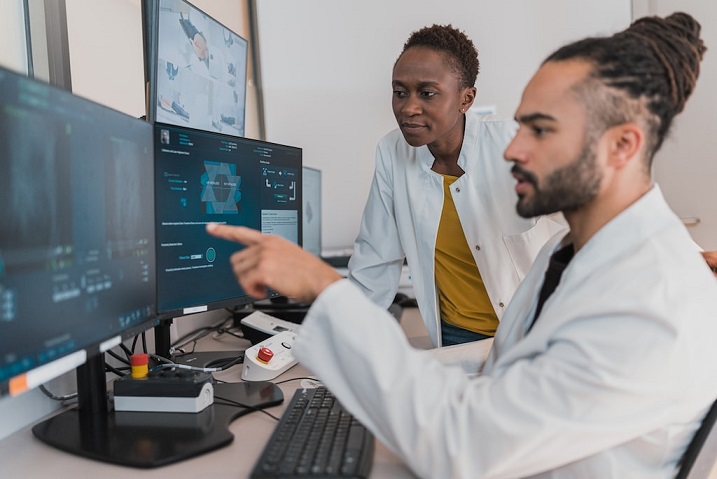 Artificial Intelligence is increasingly becoming part of the healthcare ecosystem. The global AI market in medicine is expected to grow by an average of almost 42% annually between 2021 and 2028. This is according to the Vintage Market Research report, which also valued it at USD 6.7 billion in 2020. More and more hospitals have decided to use new technologies in their work. Here are some examples.
6 examples of AI in healthcare
New technologies have already changed the work of healthcare facilities and hospitals. Here are six examples of AI applications in healthcare.
DIAGNOSIS
AI plays an important role in the diagnosis of any disease. It is used especially in imaging diagnostics such as MRI and CT. Algorithms learn what a healthy image looks like – for example, of the lungs – and what potential cancer looks like. And thanks to this, they can effectively recognize and mark lungs that require further diagnostics.
AUTOMATION OF ADMINISTRATIVE TASKS
Artificial intelligence helps automate complex and repetitive tasks. The patient doesn't have to call the reception desk; they can obtain the necessary information from a virtual assistant. The use of AI for administrative tasks not only improves work efficiency. It also has a significant impact on reducing operating costs.
EARLY DETECTION
Cancer is a diagnosis that changes a person's life. The sooner it is detected, the better the chances of recovery. But it is often very difficult to detect cancer at an early stage. However, the use of AI appears to be an effective solution in identifying the most common cancers: breast and lung cancer. As the study shows, the tested AI algorithm obtained an excellent diagnostic performance for lung cancer. It detected the disease earlier than the radiologists. During routine practice, no signs of illness were reported on chest radiographs.
BETTER COMMUNICATION BETWEEN STAFF AND DOCTORS
Customer service is often poorly provided by doctors since they don't have time to communicate thoughtfully. AI systems can help solve this problem. Examples could be:
Platforms for automatic appointments
Real-time health monitoring (applications for recording e.g., sugar level or blood pressure),
Developing innovative solutions for patient engagement.
Bots can also be a great example here. They help patients with real-time health updates by sending text messages. Health chatbots also provide answers to any question about a patient's health. It also helps them keep prescription dosing by sending you medication and dose reminders.
ASSESSMENT OF HEALTH RISKS
Examples of AI in healthcare include health risk assessment. We live in a very dynamically developing world. As a consequence, many new factors arise that negatively affect our health. Take, for example, traveling to exotic places or using unsuitable diets. What is the role of artificial intelligence here? Well, AI algorithms can effectively analyze large amounts of data. Thanks to this, they assess the risk more accurately:
Illnesses
Possibility of infection
The likelihood of gaining resistance to the antibiotic
Automation
Vitamin deficiency
DEVELOPMENT OF MEDICAL DEVICES
With the help of AI, we can predict the benefits of new medicines, potential side effects as well as mechanisms of action. Moreover, AI solutions can fundamentally change the traditional drug design process. Thanks to AI, their development will be more effective and much cheaper. In addition, drugs will be produced much faster, so the risk of shortages will be minimized.
Conclusion
The world is experiencing a transformation of the healthcare industry on a global scale. All because of Artificial Intelligence. In the article, we listed only six examples of the use of new technologies in this industry. AI can improve the efficiency and speed of critical healthcare fields:
Disease detection
Diagnosis
Health risk assessment
Medical development
Communication
As we can see, artificial intelligence has an impact on many areas. So, it seems that it will be the future of healthcare.
For more visit: https://addepto.com/blog/artificial-intelligence-and-big-data-in-healthcare/