Why You Should Get a Cyber Security Certification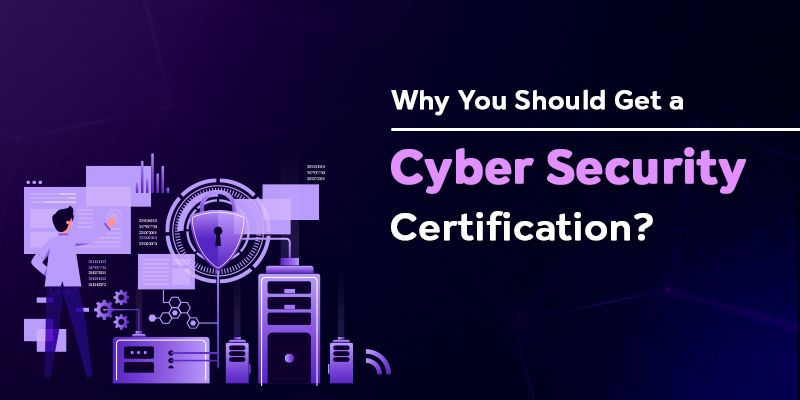 Let's start with a basic question, Where do you see yourself after 5 years? Each one of you will be having a different plan right?  But for a good working profession, you need to be certified in a certain domain. Nowadays it's very important to gain certification in a particular domain you want to get into. Here, we'll talk about Cybersecurity Certification. If you're interested in the same then you should enroll in our Cyber Security Program.
Why You Should Get a Cyber Security Certification
There are numerous compelling reasons to pursue a cyber security certification if you're looking to improve or alter your profession, including the high demand for competent candidates in the job market, the salary, the career options, and the accessibility of being certified.
Let's start with the agenda of this blog.
Talking about Cyber Security
Importance of Cyber Security Certification
Characteristics required to have a Cybersecurity certification
Few Cyber Security certifications one can opt for
Synopsis
To gain more knowledge about it keep reading the blog.
Talking about Cyber Security
Safeguarding systems, networks, and applications from cyberattacks is the practice of cybersecurity. These cyberattacks often try to gain access to, alter, or delete sensitive data; demand money from users; or obstruct regular corporate operations.
Nowadays, there are more gadgets than humans, and hackers are getting more creative, making it difficult to implement efficient cybersecurity measures.
Multiple layers of security are dispersed across the systems, networks, applications, or data that one wants to keep secure in an effective cybersecurity strategy. For a business to have a successful defense against Cyberattacks, the people, procedures, and technology must all work together.
Briefly said, cyber security is the process of defending programs, networks, and systems from online threats. These cyber-attacks typically try to gain access to, alter, or delete sensitive data; demand money from users; or obstruct regular corporate operations. Today's society places a high priority on cyber security. Cyber security enhances cyberspace security, boosts cyber resilience, expedites cyber, data, and information protection for enterprises, secures users' private information, safeguards networks, and resources, and combats identity theft and computer hackers. There are several benefits and drawbacks to cyber security.
Importance of Cyber Security Certification
The advantages of professional certifications are numerous, especially in the field of cybersecurity where there is a high demand for skills and capabilities that can be verified and where these capabilities require more than just work experience to ensure that you are fully educated and prepared to handle the most recent technologies, threats, and challenges.
While safeguarding networks, computers, applications, and data against attack, damage, and illegal access serves as its major objective, this sector is composed of interconnected technologies, procedures, and practices. Because the IT department is in charge of protection and defense, it is occasionally known as information technology or IT security.
Every sector—from business to government to military to medical to financial to personal—requires cyber security because each one gathers, stores, and sends data, most of it sensitive data.
Remember the Equifax data breach, and you'll see how widespread the impacts of a cyberattack can be. In that incident, the personal data of almost half the people in the United States was exposed.
What could protect them? It's Cyber Security surely. There is when you realize how important this field has become and the person who will earn a certification in this and who will become an expert in this will also become an asset for any company.
For people who work directly in a technological function, the majority of specialised cybersecurity certifications are available. whether it be in networking, information technology, or cybersecurity.
Exams for certification can be somewhat easy or tough, depending on the subject matter and kind of certificate. For instance, months of study and years of cybersecurity expertise are required for the highly technical Certified Ethical Hacker certification. A solid basic understanding of computers, how programs and computer networks function, plus a certificate like Microsoft's Technology Associate Security Fundamentals may be all that is required for an entry-level certification.
These certificates assist in completing areas of knowledge, educating individuals about cutting-edge technology and business practices, and fostering domain competence. This is the case for the majority of important cybersecurity certificates.
Briefly discussing few reasons why Cyber Security certification is necessary:
It is a field that is always changing
You can look for new opportunities
There is a high need for cybersecurity professionals
You can do good work and earn well
Characteristics required to have a Cybersecurity certification
Cybersecurity certifications are crucial, but the requirements for obtaining them may vary greatly.
There are a few additional factors to take into account when picking your certification, but your primary concern should be if the course will benefit you in your chosen professional path. In other words, you must take your eligibility, timeframe, and certification fees into consideration.
Eligibility
Do they demand a bachelor's degree in a technical discipline from applicants? Do they demand a specific employment background? Do you need to finish any prerequisite exams or courses?
Timeframe
How long do studies take on average? When can you anticipate to hold the certification at its earliest? Keep an eye out for certificates that could not be valid until you have accumulated a particular amount of work experience.
Fees- How much does it price to pass the exam or complete the course? Do they contain study materials?
Few Cyber Security certifications one can opt for
Following are the names of some professional Cyber Security Certifications one can go for making a career in Cyber security.
CompTIA Security+
Certified Information Security Manager (CISM)
Certified Ethical Hacker (CEH)
Certified Information Systems Security Professional (CISSP)
Certified Information Security Auditor (CISA)
MCAA – Microsoft Certified Azure Architect
AWS Security Specialty
Amazon Cloud Security Architect
Synopsis
A cybersecurity certification can help you develop your profession and confirm your hard-earned abilities. The certifications that cyber security offers have been covered above, you can choose from any of them. Start by obtaining a certification that fits your present skill set.