How to Guest Blog to build your business backbone?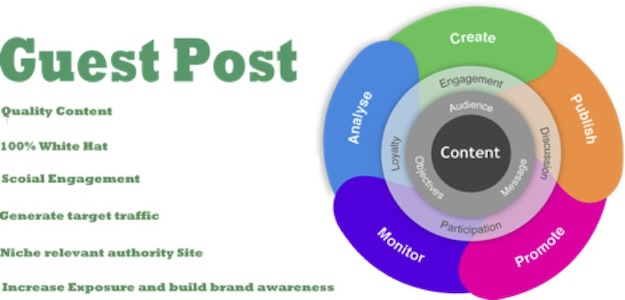 Guest Blogging is getting more and more popular in the website promotion era and is being used by digital marketers all around the world. Businesses are now adopting this method of work because though it is old school, it gives a proper assurance that they are quite loyal and trusted. Some of them are also reaping the benefits of the early usage of Guest blogging. So what is guest blogging in general?
Guest blogging is generally posting content curated by you on another's blog website. It is generally to divert traffic to your website when you link it in your content but it is simply not just that. You develop a great sense of private network with the bloggers and also you will be publishing on an established page. Isn't that thought exciting?
Well as much as its benefits, you can make it your business backbone. So here is a catch, guest blogging is a bit different than the regular blogging. When you post on your blog, you can do it on your guidelines and post them whenever you want but if you are providing guest post service, you have to follow the other blog's guidelines. Yet, you still have a few guest post blogging benefits that can help you become the backbone of your business.
You can build your Authority Image
So when you are thinking of making it as your main digital marketing objective, you can build your authority image. You can do it by adding the right content at the right time and also add value to your content. Also, other than this you can establish a brand of your own or a personal image. You can do this by writing top-notch quality content of your respective niche or your industry and gain immense respect from your peers. When you do this, it will make you an established figure in the industry which will convert your sales.
Drive huge traffic!
This is quite effortless if you know the basics of Guest Post Services or Guest blogging. All you need to do is to collaborate with a cool influencer or a blogger, write an amazing and engaging content which is fresh to hear. You can create backlinks with those popular websites and in turn, drive some high quality and huge traffic to your website. When you write content which has generated some pre-social media shares, be ready to face some huge traffic. They are a clear indication of how well you are interested in your field and it is a great opportunity to work on this platform. You will simply love it when you finally reach your target audience and they love what you have prepared for them.
Use SEO: It is going to be your friend
When you want to get a good amount of traffic from the guest post you have written, you need to employ on-page and off-page SEO. People should find your link the moment they search something on the Google Search Engine. In addition to that, the more amount of traffic you generate via the search engine optimization more above you are going to be ranked.
Increase the exposure and the bandwidth of your blog
When you want to make any monetary gains out of your blog then increase the exposure. When you post some content on your blog you will have a limited number of people viewing it. But if you are posting or doing guest blogging somewhere else then be assured of a great viewership on your content. Your content will be widely shared and it may go viral also if it is shared on other websites. This way you can attract loyal customers and subscribers to your email newsletter. Increasing exposure or bandwidth is quite impact full in the long run.
Improve your International skills and Social Presence
When you are publishing any kind of work online, be as much interactive as you can. This is because when you want a lot of social engagement, you need to understand the feedbacks and also the engagements. Thus, you need to be willing to listen to their views and take back constructive criticism. Thus, you need to improve your social presence and be an active social media member. Also, social media is a great place to market your blogs so be as active as you can on social media.
Conclusion
Thus, when you are providing guest post services to anyone, know that you are doing it for yourself and not them. You are providing your blog business some backbone and you are giving a lot of immunity to your posts. Keep in mind that whenever you are doing some guest posts you keep all the Google's Webmaster's rules in mind. Engage only in white hat SEO techniques and do not engage in any illegal backlinking activities.