How to Easily Manage & Transfer Data on Your iPhone/iPad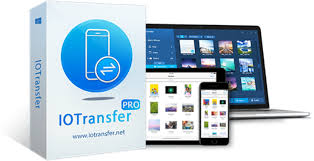 When you have an iOS device and PC, managing your files can be a complicated task. Some users tend to use iTunes which is quite heavy and does not function properly on the Windows platform. Another accident that can occur is having multiple iOS devices, managing each file can be a complicated task.
However, on the Internet we can find several solutions to this problem. There are even special programs specifically designed to manage multiple iOS devices simultaneously from a Windows PC. Some have special features such as data transmission via Wi-Fi, file converters, space free, recovery of lost files, etc.
This time we did not find one of the best options and today we recommend a very good administrator for iPhone & iPad, with which you can not only manage photos, videos, music, contacts, etc. between iOS devices, but also have very good additional features like downloading videos directly to your iOS devices and the newly added feature of iCloud manager.
Your All-in-one iPhone and iPad manager
IOTransfer 3 is a great manager of iPhone & iPad. It has features that are very easy to use, because with one click you can transfer: photos, music, videos and contacts from your iOS device to your PC.
This program has a technology that allows you to transfer files, photos and videos from your iOS device to your PC using a local network, without the need for cables. This program has an intuitive and very easy to use interface that allows each user to get the most out of the program without problems. You can also import, export, and delete between several types of files how: iBooks, Podcasts, voice notes, applications. This makes it a very good alternative to iTunes.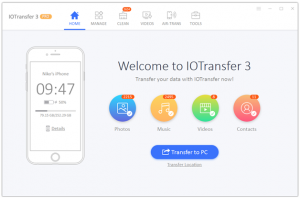 Another most important tool is the cleaning option, which lets you delete files from the cache of your iOS device to free up more space. It allows you to check the cache types to choose which one you'd like to clean up.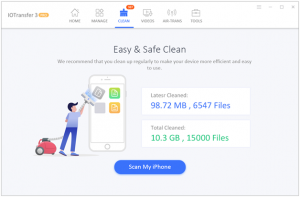 In addition, it has a YouTube Video Downloader tool that allows you to download videos from most internet sites to your iPhone / iPad / iPod and PC so you can watch them offline whenever you want youtube video downloader.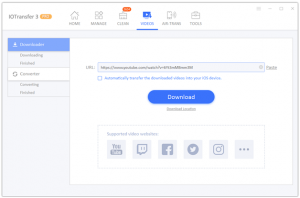 The software also has a video converter that allows you to convert videos from YouTube to MP3 on iPhone and iPad. You no longer need to worry about file incompatibilities.
IOTransfer works perfectly with any iOS device (iPhone, iPad, iPod) on Windows 7/8 / 8.1 / 10. It has a free trial version for 7 days where you can transfer up to 20 daily files. If you want a full-featured version: the pro license costs $ 26.99. This license has all the form characteristics not limited to one year and can be used in a maximum of 3 PCs. One of the most impressive features of IOTransfer 3 is the ability to download and convert videos to our PC and then transfer them to our iOS device.
How To Download and Convert Videos with IOTransfer
The first thing you have to do is connect your iOS device to your computer and then start the IOTransfer program 3. There you have to select the «Video» tab.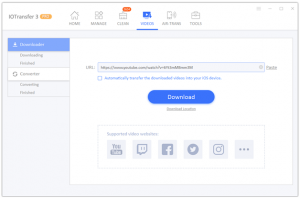 Start the program and connect your iOS device
A window will open where you can paste video links from YouTube or from any video website like Vimeo. Paste the link after the word «URL:». Select the location where you want the video to be stored on your PC using the "Download Location" button. If you want, you can choose the option «Transfer downloaded videos automatically to your iOS device» to automatically transfer videos to your iOS device. Then you can click the "Download" option.
After a few minutes, your video will be downloaded and will be available for viewing. If you want to convert it to a specific format, you must click the left column of the "Converter" option.
Add the downloaded video or whatever video you want to convert and select the "output format" format you want to convert your file to. IOTransfer 3 has many formats including «.mp3», to convert your music videos to songs. If you want before, you can choose the option "Automatically transfer videos converted to your iOS device" so that the converted video is sent to your device. And finally, you have to click on the "Convert Now" option. After a few minutes, the video will be converted to the desired format and you can enjoy it.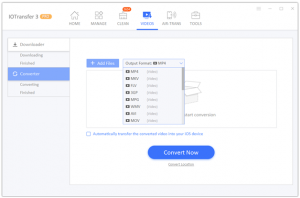 I hope the manager for this iPhone will help you. Don't forget to share with those who might be interested. See you again!