How to choose the right mattress for eliminating back pain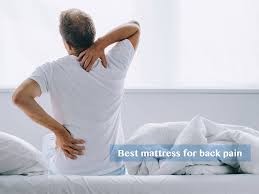 Did you know that good quality mattresses can improve back and neck pain? In addition to providing a good night's sleep and rest, the mattress is also responsible for accommodating and relaxing our bodies at night. That is, the quality of your mattress directly affects the quality of your sleep and, with it, the quality of your life!
Some people experience back pain when they wake up in the morning or wake up tired, just because they use the wrong mattress, but there are also cases where individuals already have spinal problems.
The choice of the right mattress can help even in the second case, after all, there are special mattresses for people with lumbar problems, for example. Want to learn how to choose the best mattress for a bad back? So, keep reading!
Foam mattress
There are various types of foam mattresses on the market, ranging from the thinnest and lightest to the thickest and heaviest. One thing you should consider when buying this type of mattress is its density. This density is related to the weight and thickness of the mattress, and the weight of the person who will use it. So, if you are a thin person, the foam mattress that is ideal for you does not have the same density as a mattress that is ideal for heavier people.
So, if you have back pain, it is very important that the foam mattress density table be analyzed. Mattresses that are too dense do not form your spinal curves, while smaller densities than recommended damage your curve. Mattresses like Purple, Nolah & Nectar work with middle of the road densities to conform to your shape and provide ultimate pressure relief.
Spring mattress
You should already know that there are two types of spring mattresses: interlocking springs and bagged springs. But what's the difference between the two?
Interlaced springs are recommended for single people because every movement made on the mattress is passed to each spring, which means that all the mattresses move with the person. This can create discomfort between partners.
Apart from being more comfortable, the spring mattress that is bagged separately prevents movement from spring to spring. So, if one person moves in bed, another person will not feel anything. This mattress also follows the contours of your body and ensures your spine tightness, which is great for those who feel sick.
Orthopedic mattress
Maybe this is the bed that most people hate, because it's very hard. Orthopedic mattresses are so because there is a wooden board between the two layers of foam. Many doctors believe that a mattress that is ideal for back pain is difficult, so it's getting harder and better. But many studies today show that this is not the case: individuals with cervical and neck problems may have their pain worse due to the hardness of the mattress.
Latex mattress
This mattress is produced with synthetic or natural materials derived from rubber tree latex. This may be the best choice for people who experience spinal pain when they wake up. Latex elasticity and firmness, in addition to heavy behavior, also pushes slightly upward. It's as if the mattress wraps all of your curves and this effect guarantees all the comfort for those who use the mattress.
Although many cases of back pain are pathological problems and are not caused by poor choice of mattresses, a quality mattress can relieve pain. Therefore, always remember to take into account your weight and needs when buying a mattress mentioned above.