All you need to know about Inter Milan and AC Milan: The Tale of Two Giants in Italian Football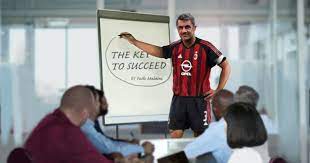 Italian football, known for its passion, history, and storied rivalries, boasts one of the most iconic duels in the sport: the clash between Inter Milan and AC Milan. These two Serie A giants share a city, a stadium, and a deep-seated rivalry that has defined football in Milan for over a century.
A City Divided: The Milan Derby
The Milan Derby, also known as the "Derby della Madonnina," is a fierce contest that pits Inter Milan (Inter) against AC Milan (Milan). The name derives from a statue of the Virgin Mary atop the Milan Cathedral, known as the Madonnina, which overlooks the city.
This highly anticipated fixture transcends the boundaries of football; it is a clash of cultures, histories, and philosophies. While Inter Milan, founded in 1908, has a blue and black striped identity (Nerazzurri), AC Milan, founded in 1899, is recognized by their iconic red and black stripes (Rossoneri). Their differences extend to their fan bases, as well.
The Nerazzurri Legacy
Inter Milan has carved a niche for itself with a history of success. The club's trophy cabinet boasts numerous Serie A titles, Coppa Italia wins, and perhaps most notably, multiple UEFA Champions League victories, showcasing their prowess on the European stage. Inter's famed "Grande Inter" team of the 1960s, led by Helenio Herrera, left an indelible mark on football, playing a brand of catenaccio that was as effective as it was controversial.
Inter's success has continued into the modern era, with the likes of Javier Zanetti, Ronaldo, and more recently, stars such as Mauro Icardi and Romelu Lukaku donning the Nerazzurri shirt.
The Rossoneri Dynasty
AC Milan, on the other hand, has had its own share of glory. Known for its "Dutch invasion" in the late 1980s, AC Milan under Arrigo Sacchi and Fabio Capello dominated both Serie A and the European stage. The iconic squad featured legends like Marco van Basten, Ruud Gullit, and Frank Rijkaard.
AC Milan's success story continued in the early 2000s, with a squad filled with stars like Paolo Maldini, Alessandro Nesta, Cafu, Kaka, and Andriy Shevchenko. This era saw AC Milan win two more UEFA Champions League titles, further solidifying their status as one of Europe's top clubs.
Shared Stadium: The San Siro
Both Inter and AC Milan share the iconic San Siro Stadium (officially known as the Giuseppe Meazza Stadium), adding another layer of intensity to their rivalry. The atmosphere when these teams meet at the San Siro is nothing short of electric. The stadium itself is a footballing masterpiece, with a capacity to house over 75,000 fans.
Rivalry Beyond Football
This rivalry goes beyond football. Inter Milan VS Fc Porto Timeline is a reflection of the diverse cultural and social fabric of Milan. Inter Milan is often seen as the club of the bourgeoisie, with its origins tied to the city's wealthier neighborhoods. AC Milan, in contrast, has its roots in the working-class areas. This class divide only fuels the passion and intensity of the Milan Derby.
Changing Fortunes and New Beginnings
In recent years, both Inter and AC Milan have seen their fortunes shift. Inter Milan, under the ownership of the Suning Group, experienced a resurgence, winning Serie A in the 2020-21 season. AC Milan, under the ownership of Elliott Management Corporation, has been rebuilding its squad and has shown signs of returning to the upper echelons of Italian and European football.
While the balance of power may tip back and forth, the Milan Derby remains a fixture where form often takes a backseat to raw emotion and historical rivalry.
Conclusion: A Tale of Two Milan Giants
The Inter Milan and AC Milan rivalry is not just a footballing contest; it is a rich tapestry woven into the fabric of Milanese culture. This storied clash has seen some of the game's greatest players and managers leave their mark, and it continues to be a spectacle that captivates football fans worldwide. The Milan Derby is a testament to the enduring power of football to unite, divide, and entertain, all while showcasing the rich history and passion of the beautiful game.