A Comprehensive Overview of Test Data Management Tools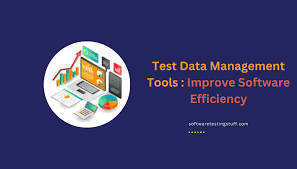 Test Data management tools are dedicated software applications used to facilitate handling & and deploying the test data for the purpose of software testing and quality Assurance. These tools are critical to making sure there's the correct info in the correct format ready and then available at runtime when you need testing.In this blog, we will understand how the best test data management tools play an important role in improving test automation.
Efficient Test Data Generation: Quality tools excel in generating realistic and diverse test data sets, encompassing a broad range of scenarios. This ensures early issue detection, reducing the risk of production bugs. The efficiency gained here is invaluable, as it prevents costly defects from reaching the final product.


Data Masking and Privacy: Stringent data privacy regulations make safeguarding sensitive information a top priority. Leading tools offer robust data masking capabilities, allowing for the protection of sensitive data while complying with privacy regulations. This ensures that test data remains secure and confidential without compromising the effectiveness of testing.


Test Automation Enhancement: Test data management tools seamlessly integrate with test automation frameworks, automating the data provisioning process. This eliminates the need for manual data entry and significantly accelerates testing. The efficiency and reliability of automated testing are greatly enhanced, enabling swift feedback and issue resolution.
Data Security: These tools prioritize data security by implementing robust encryption and access control mechanisms. This ensures that sensitive information used in testing remains protected throughout the testing lifecycle, maintaining the integrity of both your testing processes and compliance with data privacy regulations.
Data Consistency: These tools guarantee data consistency across various test environments, reducing discrepancies between testing and production. This consistency minimizes false positives, ensuring that test results accurately reflect the software's performance. The reliability of your tests is greatly improved, contributing to the overall quality of your software.


Cost Efficiency: Investing in high-quality test data management tools yields long-term cost savings. These tools automate data provisioning, reducing reliance on resource-intensive manual data creation. By preventing data-related defects, resources are allocated more efficiently, resulting in reduced operational costs and improved profitability. This cost efficiency is a strategic advantage in today's competitive business landscape.
Data Virtualization: Some advanced test data management tools offer data virtualization capabilities, allowing testers to create and manipulate virtual copies of data for testing purposes. This eliminates the need for large-scale data duplication, reduces storage requirements, and accelerates the provisioning of test data. Data virtualization also enhances data privacy and security, as sensitive information can be abstracted and masked in virtual environments, reducing the risk of data breaches.
Conclusion
Choosing the best test data management tools cannot be understated. Not only they help you to make your testing accurate and reliable but they also play a crucial part in meeting the data privacy regulations. When it comes to selecting the best test data management tool, Opkey stands as a trusted and reliable choice.
Opkey's test data management capabilities align perfectly with the needs of modern software testing and automation. It uses test mining technology to gather test data automatically from the client's environment and guarantee that it is in the right format.
When moving EBS to the Cloud or performing regression testing for Oracle's quarterly updates, Opkey's test automation solution performs multiple testing cycles very efficiently. So, consider Opkey as your partner for effective test data management, ensuring the success of your software testing initiatives with investment of less time and resources.