How Important Is Restaurant Interior Design?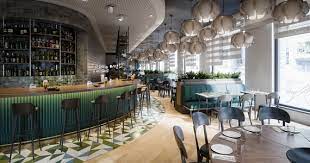 Whether you are planning on opening a new restaurant or simply have a restaurant that needs to be upgraded, you will want to consider restaurant interior design. This is important because your restaurant interior will have a major impact on the overall design and atmosphere, so you should take this into consideration when calculating your restaurant construction cost.
Furniture
Choosing the right furniture for your restaurant interior design can influence the mood and behavior of your customers. Whether you own a small restaurant or a large establishment, the right colors, lighting, and furniture can make a big impact on the overall aesthetics of your restaurant.
Modern restaurant interior design is known for its minimalist aesthetics. These restaurants generally use light colors, such as beige, grey, sky blue, and cream. These colors help to create a spacious and airy environment.
The use of vintage-style chairs is also popular in this type of restaurant interior design. These chairs are characterized by scratch-resistant materials and durable construction. These chairs also go well with industrial-style interiors.
For a more elegant and formal look, you can use soft pastel colors or multi-color/distressed patterns. These designs are also suitable for fine dining restaurants.
For a more retro feel, you can use distressed furniture. Distressed furniture has an aged look, with cracks and peeling colors. These distressed designs are also popular for themed cafes. These designs often go well with rustic decors.
You can also use distressed materials to create a more industrial look. Industrial design can include exposed building elements, like exposed ceiling ducts, acid washed concrete floors, and factory-type lighting. This type of decor can also accentuate an urban look.
You can use metal tables and chairs. Metal tables are stain-resistant and durable. Stackable chairs are also popular. Metal brackets can be used to create shelves and bar stools.
Using a mix of tables and chairs is a good idea for restaurants. You should also pay attention to your target customers. You should use furniture that is comfortable for your customers. You should also make sure that your furniture does not block customer movements.
Seating options
Creating a seating strategy for your restaurant is an important part of your overall planning. There are many things to consider. You should choose a seating solution that is ergonomic, durable, and that fits your restaurant's brand.
Restaurant seating may be fixed, moveable, or a combination of the two. When choosing seating, consider the size of the area and how the seating will be used.
Using different seating types can help your space function more efficiently and cater to a wide range of patrons. You can even get creative and incorporate the right mix of seating types to create an atmosphere that will appeal to a variety of customers.
One of the best ways to create a seating strategy is to get your hands on some architectural planning software. This can help you determine the best way to use your space while providing your customers with the comfort and functionality they deserve.
One of the most important things to consider when creating a seating strategy is the materials used. You should use materials that are easy to clean and maintain. Materials like metal, plastic, and leather are all good choices.
For the most part, restaurant seating is pretty standard. It usually consists of a hard foam base and an outer layer of soft foam. Typically, it is either fully or partially upholstered.
It isn't uncommon for restaurants to mix and match seating. The right combination of table sizes can help your restaurant speed up the time it takes for diners to order and receive their meals. Using a seating solution with an integrated serving cart can also help your restaurant's circulation.
A seating strategy should also consider the size and style of the table. Square or rectangular tables are best suited for smaller restaurant dining rooms.
Lighting
Using the right type of lighting for a restaurant can make or break a business. The right lighting can help to create an inviting atmosphere and attract attention to specific locations. The right lighting will also help staff to do their jobs and keep patrons safe.
While the most obvious choice for restaurant lighting is to use brighter lights, a less obvious choice is to use softer lights. Brighter lights can be used in the morning and midday, while softer lights are appropriate for nighttime.
The most efficient restaurant lighting plan uses several layers of light. This can be achieved by using LEDs. LEDs are energy efficient and can be customized to create the right brightness and color temperature for a specific area. They also cut down on utility bills.
Using LEDs can also help to create an interesting shelf display. Lighting is often a crucial part of interior design and can be a fun addition to any restaurant.
The most important aspect of lighting is to use it to enhance your space. Creating an interesting restaurant design is a combination of lighting, shapes, colors, and textures. Lighting can be used to highlight an interesting structure or artwork, or to create an air of intimacy.
The best restaurant lighting plan should take into account the location of the business, the types of patrons it serves, and the type of food it serves. The lighting plan for a fast-food chain is likely to be very different from that of a fine dining restaurant.
The best restaurant lighting plan will combine ambient lighting, task lighting, and accent lighting. The best combination will also use the right type of lighting for the right time of day.
Artwork
Adding artwork to your restaurant interior design can improve the look and feel of your restaurant. It can also help customers enjoy their meal. But it is important to choose artwork carefully. You want to choose art that fits the theme and aesthetics of your restaurant.
If you're planning to install artwork in your restaurant, you need to work with an experienced interior design team. Your team can help you choose an artist and figure out the size and placement of the artwork. They can also help you figure out the statement you want the piece to make.
You can also work with an artist to create a mural for your restaurant. A mural can be an interesting way to incorporate local artists' work into your restaurant. It's also a great way to get people interested in your local artist's work.
There are plenty of options for artwork in restaurants. You can choose to install a mural that combines different colors and materials to create a unique effect. Or you can choose to install artwork that has a bold graphic or oversize drawing. Choose a piece that will enhance the flow of your restaurant and create a positive experience for your customers.
Artwork can be added to almost any work area, including the kitchen. It can accentuate the color theme of your restaurant, or it can draw the attention of customers to an area that needs a bit of attention.
You can also use art to create a unique environment for your employees. Decorative art can improve the quality of your employees' work environment and reduce employee stress.
It's also important to choose artwork that works with the space. It should not be an afterthought.
Scent marketing
Using scent marketing in restaurant interior design can help you create a positive atmosphere, boost customer satisfaction, and increase sales. When paired with the right visuals and sounds, scent can help you achieve your marketing goals.
Scent marketing is one of the newest trends in the restaurant industry. It is becoming more popular with each passing year. Scent marketing is especially effective for food-related brands.
Scent marketing involves diffusing strategically chosen scents throughout a store or restaurant to attract shoppers. It has been proven to increase customer satisfaction scores by 20% and improve retail sales by 11%. It has also been proven to increase consumer travel through the sales funnel.
Scent marketing is also a great way to boost branding. This is especially true for baked goods brands. For example, Starbucks uses a coffee smell in its HVAC systems.
The coffee scent makes Starbucks harder to ignore. It also creates a warm, food-friendly mood that keeps customers coming back.
In addition to coffee, other scents can be used for restaurant scent marketing. For example, if a restaurant is specializing in organic foods, the scent of honey and lemon can be used to convey freshness. Similarly, a women's clothing store may use a "feminine" scent to create positive feelings for potential customers.
Another type of scent marketing is thematic scenting. This is when a company deliberately chooses a bold scent related to its brand. It is important to choose scents that are in sync with the brand's image and ambiance. It is also important to use the scents in appropriate amounts.
One of the most popular uses of scent marketing is the use of billboards. These billboards contain distinctive scents that are tied to the brand. They are strategically chosen because of the target demographic's affinity for the scent. These scents can be quite controversial. They also put a company at risk for legal issues.