Explore Aspen's Ski & Summer Resorts in Style with Luxury Limo Service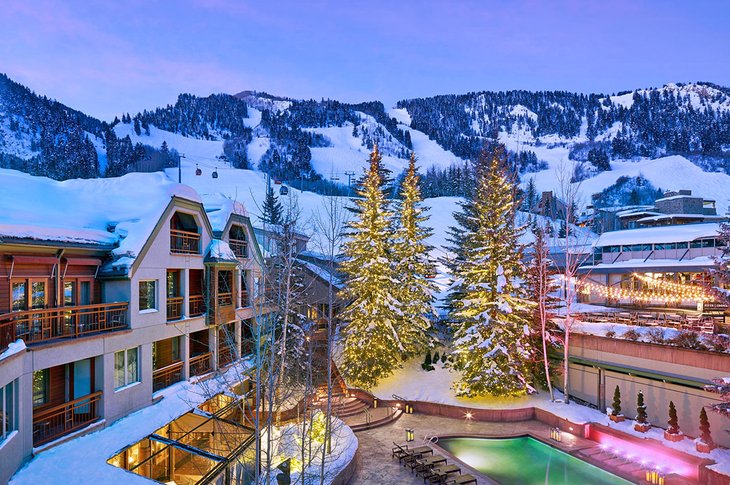 Aspen is the most popular mountain town in Colorado and all year resort gateway destination, with some of the greatest hotels in Colorado. It's timeless and elegant.
This place was just a city, unlike the many Colorado mountain communities where the neighborhood grew up close to a ski area. It was constructed in the 1800s when it was a rough town of silver miners.
Later on, the mining business collapsed, and Aspen was rebuilt as an holiday location with upscale lodges. Today, it has a peaceful neighbourhood with upscale shops, hotels, galleries, and many fantastic restaurants.
Right in the middle of town, Aspen Mountain is renowned for its slopes and a lively après-ski community at the base.
If you want to explore Aspen's ski and summer resorts with style, then, hiring a luxury Aspen limo service is what you need. Here's why…
Why Should I Opt for a Luxury Limo Service to Explore Ski & Summer Resorts in Aspen?
1. Get to anywhere on time
You could be running late to a winter event (such as a ski race), so it's quite convenient to hire a limo service. And with a good limo service company, there is an assurance that you will arrive at your location on time.
2. Elegance and comfort
One of the perks of using a limousine service is the comfort it provides. So, apart from being on time, you also get to make a grand entrance at that ice ring or frozen lake party.
3. Excellent service
It is very important that you get a luxury limo with great service. So, you get a driver that is courteous and modest.
This will make you feel more professional and allow you to enjoy every bit of the ride. Your chauffeur will gladly fill you in on the alluring sites and answer questions as he rides you around ski and summer resorts in Aspen.
Now that you know that hiring a limo for your leisure trips in Aspen is the best, here's a carefully sorted premium list of Aspen's ski and summer resorts you can explore with style in a limo:
1. The Little Nell:
This is the only five-star hotel in Aspen. The Little Nell is located a few steps from Aspen's mountain root. It is a fancy, magnificent structure, most loved by families and celebrities.
It was recently redesigned to maintain its high-end standard. Each room and suite comes with dreamy fireplaces, blackout curtains, on-demand movies, wake-up service, luxury balconies and cozy beds.
You'll enjoy the jacuzzi tub and outdoor pool in the summer and the hot tub in the winter.
For skiing, there's a ski concierge and an exclusive spa to soothe your sore muscles after a fun day in the mountains. The marble bathroom contains a walk-in shower.
Other amenities in The Little Nell include stewards administration, two cafés, a dining area, on-demand movies in rooms, and bicycle rental for a family-friendly getaway.
2. Limelight Hotel Aspen:
The Limelight Hotel is a 4-star plush hotel with a laid-back atmosphere that anchors the Base Village and is just a short walk from the Elk Camp Gondola and Village Express ski lift. You will need a luxury limo service to take in the relaxed atmosphere the neighborhood has to offer.
The family-friendly hotel, which has only been open for a little over five years, offers amenities for every member of your family (that includes the dog). The five-story indoor climbing wall is a safe way to take your children on a climbing expedition.
It is specifically made for children and has three self-belay courses. Climbing is completely free for Limelight's visitors. Ask whether a play tent may be set up in the room if you are traveling with children (for a fee).
These come with sleeping pads, camping pillows, and even a lamp, and can fit kids up to four feet tall. There's also a kids' play area with floor cushions and even old video game consoles.
After a long day of skiing, mountain climbing, or cycling, you will love the enormous hot tub, which is heated to various temperatures and is great for your fatigued muscles. The Limelight shares the same playful atmosphere and vibrant color scheme, which makes it an excellent choice for couples.
The 99 rooms and suites have spacious windows, eccentric artwork, and warm furnishings. Some rooms have furnished balconies with a breathtaking views. It also has a handful of homes that can be reserved if you need a bigger space.
These have a full kitchen, separate dining rooms, and one to three bedrooms. The Limelight Hotel's amenities also include paid private parking on-site, high chairs, a lounge area with an open floor layout, and an on-site restaurant, which serves delicious wood-fired pizza among other entrees. (The complimentary morning meal is quite large and filling).
3. The Hotel Jerome, Auberge resort
It is a legendary luxury complex as it is Aspen's oldest tavern. As a member of the exclusive Auberge Resorts Collection, the Hotel Jerome public spaces are decorated with arts and artifacts.
They were all picked from the 19th century to the present and pay homage to the building's history. If you love art, Hotel Jerome will be more than a luxury trip for you.
It was built to resemble an affluent hotel in Europe from the same era and debuted in the middle of the silver rush in 1889.
Hotel Jerome is the only hotel to survive the depression, the silver crash and its competitors. This pet-friendly hotel offers a variety of suites and rooms, though even the most affordable accommodations are cozy and decorated in a contemporary alpine style.
You'll adore the cowhide-upholstered chairs, regional art, and long glamorous windows with stunning mountain and city views that are surrounded by cashmere drapes. The suites are available in various sizes. If you need much more space, reserve one of the resort units with a well-equipped kitchens.
On-site amenities include a swimming pool, a spa with different massage treatment and other treatments, a physical fitness center, bathrobes, housekeep and a sauna.
Imagine a trip to this place and other places in Aspen with a luxury limo service. Such a beautiful experience it will be!
4. Aspen Meadows resort:
This is an artistic resort renowned for its landscape architecture and art created to blend into the surrounding environment. It is located along the Roaring Fork River on 40 acres in Aspen's quiet neighborhood.
The Aspen Meadows resort resort is home to the prestigious Aspen Institute. The Aspen campus hosts events that draw Nobel prize winners, prominent individuals and world leaders. The suites in Aspen Meadows resort are decorated in the Bauhaus style. These include Laccio tables, Bertoia chairs, and long windows with stunning mountain views.
The Aspen Music Festival is held every year during the summer. Other fancy amenities here include; private patios and seating areas, a local exquisite restaurant called Plato's, a heated outdoor pool (saltwater), a hot tub; a fitness center, tennis courts, a bike, snowshoe rental, a vending machine, a ski school, rooftop terrace, interconnected rooms, tennis court and a self-service laundry.
On a final note…
There is always something to keep you active in Aspen, whether you'd love to take advantage of the snow by skiing or enjoy the fantastic hiking, mountain biking, or other outdoor activities. Hotel Jerome, The Little Nell, Limelight Hotel, and Aspen Meadows are #1, #3, # 4, and #9 of 32 hotels in Aspen, respectively.
To explore these exquisite ski and summer resorts in Aspen in grandeur and also have an indelible experience, you will need a luxury limo service and there is no better than the luxury limo transportation services from https://snowflakelimo.com/ – call them at (970) 670-6029 or visit their HQ at 1300 N Frontage Rd W #2068, Vail, CO 81657 to arrange a stylish and hassle-free travelling experience in, to and from Aspen to any nearby resort or area in Colorado.