Best Multi-Channel Ecommerce Software Solutions 2022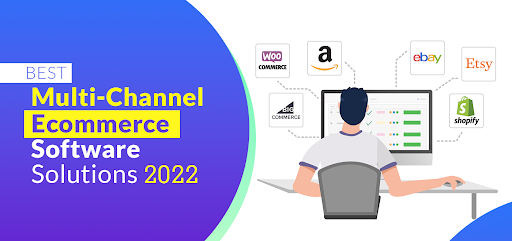 Users use the most renowned channels for online shopping, such as Amazon, Walmart, etc. Regardless of these top channels, they also prefer to check out other sources of the marketplace for price and quality comparison. Because of the multiple options available, customers have shown capricious shopping behaviors. Looking at such fickle things, it has become indispensable for brands to expand their product listing from a single channel to multiple marketplaces.
Diversifying businesses helps in reaching out to a wider range of consumers, protecting the brand from relying on a single marketplace, increasing sales and revenue.
Certainly, creating a brand presence across diverse channels is a lot of work including investments. With the help of a robust, responsive, and intuitive eCommerce website development solution, brands can create a consistent and unified customer experience everywhere.
However, if you are not to invest time, manpower, and money on the same, a simplified method is to use multi-channel eCommerce software.
What is Multi-Channel eCommerce Software & Why Do You Need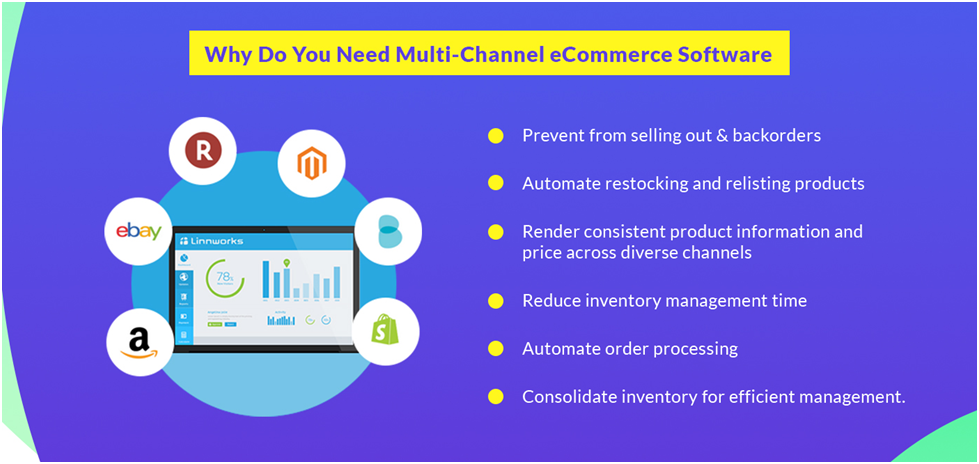 A multi-channel eCommerce software is a centralized platform or administration that leverages an eCommerce manager to list and sell their products on multiple marketplaces like eBay, Amazon, and similar more.
This multi-channel platform is a sort of eCommerce management service that manages every product's product catalog, stock levels, price adjustments & more, all from a single location.
After you set up an SKU, it also automates the process of relisting, adding them to new platforms, and updating stock and values based on remaining inventory.
A good multi-channel eCommerce solution enables you to cross-channel business rule management, and bulk image upload, allows users to streamline workflows using filters and tags, and support inventory updates automatically. Additionally, a good tool can –
Prevent from selling out & backorders
Automate restocking and relisting products
Render consistent product information and price across diverse channels
Reduce inventory management time
Automate order processing
Consolidate inventory for efficient management.
In order to achieve these benefits, we have enlisted a few multi-channel eCommerce platforms that can help you with product listing and selling.
Top multi-channel eCommerce Platforms To Enhance Your Sale
1. CedCommerce
This eCommerce platform is best for small and mid-size organizations. The platform allows brands to move their product catalog from their online store to large eCommerce marketplaces. This multi-channel SaaS solution is plugin-based that helps brands to follow specific guidelines of the different marketplace.
CedCommerce lets sellers import bulk listings or sets, helps to curb overselling, allows merchants to auto-accept orders, and synchronizes inventory counts across marketplaces. The best part about CedCommerce is that you can operate your brand regardless of any platform – Bigcommerce, Prestashop, Magento, Shopify, etc.
2. Seller Active
Another most established multi-channel eCommerce platform designed for inventory management is Seller Active. Seller Active is unique as it offers one-on-one support from customer-service selling experts.
Seller Active costs $79 per month as a beginning range, however, it also offers a different pricing range that goes up to $899 depending on the features and add-on services. The direct selling platform offers repricing tools for order management fulfillment. This eCommerce multi-channel platform also lets you operate your business entirely on different channels such as Jet Walmart, eBay, Amazon & others from a single dashboard.
3. Zentail
Zentail is special because this multi-channel eCommerce platform is designed by retailers for the absolute needs of retailers. Zentail offers all the requisite features for eCommerce sales, supporting major channels, inclusive of Google Shopping.
The platform is the best fit for mid-size and large organizations that prefer optimization over process settings. The platform is the most sophisticated one offering catalog and inventory management with the multi-channel automated listing, FBA integration, dynamic repricing, filters like Smart Types for product categorization, shipping label generation & much more.
The platform is integrated with smart tools, such as automatically defines products based on category for faster listing with listing software. The price of this dynamic software offering channel-based overrides and multi-channel automation begins from $1,000 a month, and the price increases with added features.
4. Sellbrite
Effortlessly list and sell products across multiple online sales channels with this easy-to-use eCommerce multi-channel platform. Sellbrite offers an intuitive yet sophisticated interface that makes visibility clearer, navigation, and centralized control over inventory & order fulfillment.
Sellbrite is also easy to set up, provided with templated recipes for automating items listing from catalog and bulk updating data across multiple marketplaces.
The platform can be used by anyone as it supports BigCommerce, Amazon, eBay, Etsy, Walmart & more at a minimal price of $49 per month. The best thing about Sellbrite, removes the risk of overselling with automatic synchronization of the inventory across channels.
5. GeekSeller
A steller eCommerce multi-channel automation tool was designed by Jet.com. The platform offers similar features as that of the aforementioned, that is automation inventory and management for all big platforms like BigCommerce, Walmart, Amazon, eBay, Shopify, Jet & others, including 3PL solutions.
This multi-channel product listing and selling platform offers real-time inventory updates, synchronization, repricing, order fulfillment tools, and order management hassle-free. GeekSeller offers basic listings allowing you to edit listings for each marketplace individually. You can use GeekSeller at a price starting with $200 per month, which goes up to $1,000 depending on the features you add and use.
6. SeCommerce
One of the leading SaaS solutions that intelligently gives users the ability to manage multiple storefronts without any customization restrictions. The platform offers real-time inventory tracking of multiple channels to track transfers between stores and purchase orders from vendors.
SeCommerce lets your website sync with inventory and POS diversely located, let quick products upload, update quick changes in the inventory, and order fulfillment. The platform gives you complete freedom to customize your shopping cart and payments with third-party integrations, enable or disable custom messages, postal code requirements, get shipping cost estimation, and more.
The basic plan begins from $299 and goes higher as per feature and support. You can also integrate reporting and analytics to get insights into net sales, gift card usage, COGS, and much more with SeCommerce.
7. CORESense Connect
With a simple and easy-to-use interface, CORESense Connect is an all-in-one point of sale, eCommerce, and retail business platform that speeds up customer checkouts. The platform supports all platforms exceptionally well, such as Amazon, Quickbooks, Magento, etc, while offering continuous support.
CORESense provides an inventory database with real-time business visibility. Additionally, you get to manage cross-channel promotions, fulfillment, and returns, handle tasks like product search with SKUs, product info via barcode, payment method processing, as well as in-store pickups of online purchases. Dropshipping is also available for out-of-stock and transactions for multiple payment forms. Pricing of this multi-channel eCommerce platform is available only on request.
8. Fulfil.io
The perfect platform for wholesalers and manufacturers, Fulfil.io supports multi-currency and easy returns. The platform consists of in-built tools that simplify cost monitoring for raw materials and production tracking while implementing automation workflow through open API.
Fulfil.io offers heavy support for Shopify & Shopify Plus, spree, and Bigcommerce multiple store location features and provides automated accounting and inventory tracking. The platform offers extensive documentation to cover the nuanced queries as well as, works with multiple marketplaces with multiple payment options. The price for implementing Fulfil.io is only available on request.
9. eSwap
Considered as the best multi-channel eCommerce software for retailers with third-party logistics apps support, such as Royal Mail, UPS, DHL & more. eSwap offers analytics to run detailed reports with filters from sales channels and a warehouse management system to transfer stocks between different, even siloed warehouses.
eSwap is a powerful eCommerce management solution offering inventory management, account management, order management, and shipping management. With eSwap, you can keep your stock on the right levels while providing links to your listing. You can also seamlessly import & update products in bulk while allowing you to sell them on different marketplaces, shops, and POS systems at the same time, all just from a single platform.
10. ChannelAdvisor
One of the largest multi-channel eCommerce product listing software, ChannelAdvisor offers strong automation and synchronization of inventory across all major channels, such as eBay, Walmart, Facebook, Amazon, & more.
ChannelAdvisor helps brands manage their listings & pricing automatically while enabling managers to collect data and integrate it with merchandising and marketing. A sophisticated yet powerful enterprise-grade tool, ChannelAdvisor offers product intelligence and repricing with robust front and back end tools for an optimized eCommerce store.
The platform is an ideal solution for midsize to large organizations, and the pricing for implementing ChannelAdvisor is retrieved upon request.
In a Nutshell –
Which featured multi-channel eCommerce platform do you feel is the right fit for you and your business? Almost every platform offers requisite features with a different budget. However, we have just listed 10 multi-channel eCommerce portals and there are many more to add that some of you might have used or using currently.
In order to judge and pick the perfect fit eCommerce solution for your business, you can take up a small demo of the software mentioned above in the list. This way, you will be able to get a better knowledge of the features and functionality of the software. So, get your demo today or connect with an eCommerce consulting services provider for expert guidance.Author's Bio: Scarlett works with the editorial team of A3logics, a leading eCommerce software solution provideroffering eCommerce web design & development services. Exploring the latest technologies, reading about them, and writing her views have always been her passion. She seeks new opportunities to express her opinions, explore technological advancements, and document the details. You can always find her enjoying books or articles about varied topics or jotting down her ideas in a notebook.