5 Outstanding Casio Watch You Must Have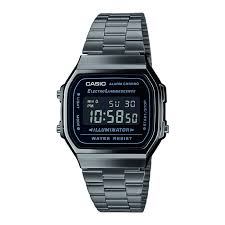 Who does not have a Casio watch? I guess each of us has a Casio watch that we always wear. Be it at work, at home, or sports activity, we can still wear this timepiece. This watch brand is known for its affordability without sacrificing the quality of each model. It has also been tested throughout time.
Casio watch is not just your ordinary watch because it also has distinct features that make it stand out from other brands. It has again proven its durability for how many years and did not fail every person who bought this brand. Just because it's affordable does not mean you can't use this for any formal events.
A lot of known personalities wear this brand because of its unique style and very lightweight feature. What you wear is sometimes who you are as a person, and the same goes for the type of watch you'd like to wear. This brand has been remarkably classy and elegant all pack into one. Below is the best Casio Watch everyone would like to have:
Know More About Casio Watch
If you want to get noticed in a crowd, indeed, this watch will not fail you. Wearing a watch can tell a lot about a person without even knowing him personally. If you wear Casio, you can also be seen as having a classy personality. Every gentleman loves this timepiece because of its advanced features and durable quality.
Casio is a Japanese owned brand that has been around since 1946. The business did not start on watches but a brand manufacturing electronics like Calculator. This brand is the first to create an analog and digital timepiece. The first-ever watch that has advanced features like detecting the temperature and time zones is the calculator watch.
Even with the continued advancement of Smartphones that almost replace everything, the Casio brand remains steadfast and resilient. As we can see, today's Casio watch is not just purely about telling time; it has advanced features like speed meter, etc. to match the demand of this generation.
Casio Calculator Watch
With the continued innovation of this brand, they come up with a watch that you can do calculations. It features a stopwatch, alarm, and Calculator but is still comfortable to wear because it has a smooth design. This is an excellent gift if you are working on a budget because it's very affordable but durable.
Casio G-shock
This watch is one of the famous Casio watches and is known as the "toughest watch of all time." It was labeled as most challenging because it's durable and can withstand any environment. Today, many people still use this type of Casio watch, and with its continued innovation, people still love its design.
Casio Protek
Like Gshock, this Protek also comes with a sturdy feature and best for outdoor adventures. It features GPS, location memory, and much more that is perfect for outdoors. This model has a dual-layer LCD and is water-resistant. If you want a company for the ideal mountain trail experience, you must bring this watch with you.
Casio Edifice
If you want speed and an intelligent timepiece, this watch will surely fit your needs. This model is designed for those motorsports enthusiasts. Compared to other designs, this watch has more advanced features. It features a speed calculator, world time for about three hundred cities, and can transfer data through smartphones.
Takeaway
With the continued innovation and change of lifestyle of people, watches are essential. Today, watches are used to know the time and to know your health, location, temperature, etc. which are vital information we also need to know. Let's make sure that we choose the right brand tested thru times like Casio.