WOMEN OF WATERHOUSE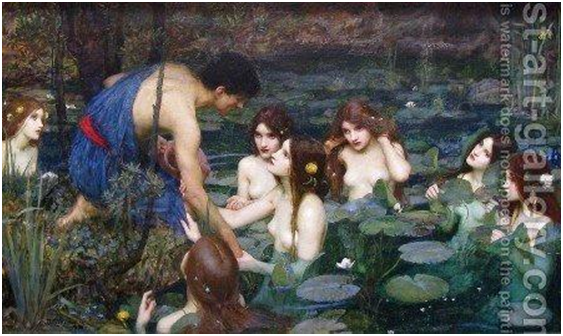 One of the finest and most popular painters of British Victorian-era, known for his exceptional work in classical, literary and historical subjects, John William Waterhouse (1849-1917) is a romantic artist in the truest sense. With a passion for painting dramatic portraits of strong, beautiful female figures in the backdrop of natural sceneries, his artwork has become the icons of femininity.
He effectively combined classical mythology with European legend to leave the viewers' spellbound with his meticulous detail and extraordinary sense of drama. Today, Twenty-four of his finest British Victorian era paintings including The Lady of Shalott, The Soul of the Rose, and La Belle Dame Sans Merci are housed in some of the best art museums across the world.
 Water house's Exemplary Style and Technique
John William Waterhouse drawings sought inspiration from both the Pre-Raphaelite and Classical painters, as his sensuous use of paint earned his artworks a unique identity. The artist painted primarily in oils and used a wide range of artistic techniques to paint both beauty and realism that distinguishes vastly from other artists of the Romantic era.
What's more; Waterhouse's fascination with beautiful women and the femme fatale is utterly unquestionable and he renders literary themes in a dreamy, romantic manner using symbolism, striking light, and vivid color schemes. But what really sets apart his unique style and legacy is the ultimately romantic clothing style of his models that are displayed with transparent clothing to reveal sexuality without making it too provocative.
From a Local Painter to a Global Art Maestro
Waterhouse's received early training in art by his father who was an artist himself. While the young artist drew inspiration from helping his father out in his studio, it was his time in Italy as a boy that stirred his creative juices and encouraged him to practice 'The Roman mythology theme' using oils and occasional water colours.
In fact, many of Waterhouse's most early paintings featured the Roman Influence— resembling the classical approach adapted by artists like Frederic Leighton and Alma Tadema.
In spite of his Roman inspirations, the major part of Waterhouse's work remains primarily British in style, inspired by the signatures of the Pre-Raphaelite paintings. While his style became particularly English in the later years of his career, he entirely changed the models he used, the way he used them as well as the settings in which he placed them.
What's more; his British Victorian-era paintings started heavily featuring English Gardens adorned with flowers while the women would be associated with an assortment of themes including ancient mythology, symbolism, and of course British poetry. In fact, the English poet Alfred Tennyson, was featured multiple times with his literature of around 70 years earlier.
Lady of Shalot: The most Famous Woman of William Waterhouse
Master-crafted by Waterhouse in 1888, 'Lady of Shalott' is an oil-on-canvas painting of a scene from Lord Alfred Tennyson's poem, in which he has used his artistic expertise perfectly to describe the plight of a young woman. While this British Victorian-era painting measures astounding 153cm by 200cm, it depicts the supremely detailed story of a young woman who's setting sail alone in a small boat.
Aside from the metaphoric details, what actually makes this Waterhouse drawing stand out is the artist's realistic painting ability. He has deliberately painted the lady's dress in pristine white that lays a stark contrast with the darker hues of the background. Even better, Waterhouse's intricate attention to detail, near-realist quality, the emphasis on the beauty of nature, and not to mention the portrayal of the character's vulnerable, wistful face— all lay testimony to the artist's extraordinary skill.
Ophelia-1894: Epitome of Romanticism
John William Waterhouse was one of those rare painters who sought inspiration from a variety of written work including that of William Shakespeare. His masterful technique primarily focused on transporting stories to life using intricate details and beautiful colors. One such painting that draws inspiration from the verses of the Literature maestro Shakespeare is 'Ophelia', which the English artist has painted in such an intimate way than you can literally feel the pain and agony of the character.
The famous painting represents portrays the catastrophic character of Ophelia from Shakespeare's Othello. He artfully shows the young woman resting at the edge of a beautiful, serene pond that is adorned with blossoming flowers all over.  While the woman's expressions are meticulously projected to be quiet and peaceful, Waterhouse represents the inner turmoil and deathly emotions experienced by the character in her eyes that are strongly gazing at the viewer! In fact, his masterful visuals make it so easy to imagine that this must be the moment captured right before the character chose to drown in the water.
Conclusion
While John William Waterhouse specialized in the romantic, mythical portraiture of Pre-Raphaelites and the classical style of Alma-Tadema, his brilliant oil paintings such as 'The Lady of Shalott' and the 'Othello' are considered to be the a couple  of best artworks of all time. All in all, William Waterhouse Oil Paintings won over people's hearts with their Pre-Raphaelite style and established him at the pinnacle of British art in the 19th century and beyond.