How to buy the perfect Robotic Lawn Mower?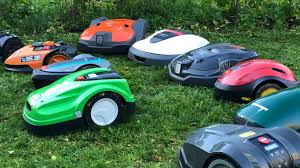 You can never imagine the look and feel of the grass of the fresh lawn and its shining grass unless and until you have spent the right amount in professional landscaping service. For this purpose, you must put your time and effort to keep your lawn in good shape.
It may require your credible number of hours during the week if you are enough old school and doing it yourself. But trust me, there's an incredible way of servicing your lawn which is getting popular these days in town i.e. 'Robot lawn mower'. Trust me, it works wonders. No other device can work as efficiently and effectively as it for you. Why?
Because:
It is available for all shapes and sizes of lawns.
The installation is quite easy to set up, and because it comes with a rechargeable battery pack, so you don't have to worry about power consumption.
It has no noise problem in it, and you can easily use it at any hour of the day and any place without thinking about the surroundings.
It can work on its own easily when you are even not around.
Besides this, it is also true that it doesn't come cheap; but every penny you spend will worth it.
It is because of the incredible features added in it like rain prediction sensor, theft-controlling sensors, Bluetooth and Wi-Fi connectivity, operating it through a smartphone application, and scheduling plus noting ability.
One more thing that by paying a little more, you can have your customize model which will handle a larger portion of the lawn having steep cuts, hindrances, more amount of flower beds, ingrown plants, etc.
So, one cannot deny the fact that why the robot lawn mowers' sales are increasing day by day. The rechargeable batteries' functionality integrated along with the robotic system gives you the impeccable advantages in the long run.
How Robot Lawn Mowers Work
It works similarly to the regular vacuum cleaners. It is just like watching someone tidying up your things, but the inside working is quite different.
All of the Mowers are battery-operated, having an efficient motor with sharp cutting blades it. It has an AC powered base station too with various sensors and a parameter wire of low voltage which helps in moving around without any hassle. This entire system provides enough amount of electric charge to the whole system.
Let's review the entire working process which is comprised of four significant steps.
The sharp cutting blades are best to cut the grass in fine setting. It is operated by a Lithium-ion battery and a motor.
The second part is its wheel-based structure which is just beside the motor area. It helps your machine to move around without any hassle.
A low-power based programming module is attached to this device. It works on the basis of intelligent algorithms which gives the best solution in an affordable price.
Visual recognition system and intelligent programming helps in successful navigation. You may never where the obstacles and hindrances are ahead.
The sensors, along with the charged wires, work through the boundaries and return to the place where you cut the grass. The rechargeable battery pack is incredible and can last from 30 minutes to the right amount of hours. Itis designed explicitly for small lawns giving you a backup of 4 + hours.  The expected charging time takes about 30 minutes to 2 hours but sometimes more than that.
The backend programming done with the assembly or python language is done for the smooth operation of buttons. It is also having some different setting timers for menu, scheduling, creating zones, control settings, running diagnostics, and to view the history.
We have compiled a list of some of the incredible Robot lawn mowers' features for you to suit your different needs. Have a look.
What features to look for in the Robot Lawn Mowers?
Lawn Dimensions and Cutting Deck
Always figure out first that at how much lawn's area you will be working on. The lawn's structure plays an important role here like if you have more flower beds, trees, it will affect the amount of time used for cutting plus the battery time.  Navigating becomes difficult in such kind of places where it's not an ordinary rectangular or square plot. So, how would you work in this kind of situation?
The cutting deck's information is essential because it is the place where it rotates. If you are using a single spinning blade, then others might be using multiple spinning plates or multiple razor blades as per their convenience.
The robotic lawn mowers' cutting edge determines how much amount of grass will be cut in a single stroke. For example, small lawns need a seven-to-ten-inch cutting width, while the bigger pieces of land need at least two feet of cutting width. The best part is it reduces the grass into a fine state, which helps in more fertility of the lawn.
Pricing
It doesn't come cheap because of the incredible added on features, but some of them are quite affordable too.  Whenever you intend to buy a lawn mower, see that would it be able to handle your lawn or not.
Some of the manufacturers have made the whole buying process quite easy by having an online calculator. It helps you in making the right kind of decision for yourself, and the entire budget comes in front of you. Further, if you approve, then they will send a representative to your home for site check, and the person will suggest something (if needed) as per their expertise.
According to the research, the robotic lawn mowers come anywhere from $600 for the ordinary model and up to $3,500for a hi-tech lawn mower. You may also add the professional installation charges in it.
Essential Added-on features
After jotting down the specifications as per your lawn complexity and its working area, start considering other features too.
Look for a robotic Lawn mower having a user-friendly UI and flexible programming options. It should enable you to create schedules for different zones and offer to split into multiple zones so you may concentrate at specific zones on different days. It will also help you to move without any hassle and save the maximum battery life.
Also check, whether the chosen robotic Lawn mower operates in the rainy season or not.  Else it will be a significant problem for you to look after your grass in that weather.
Don't forget to ask the representatives about the cleaning process of the machine. Also, ask them, is it having the weather sensing feature or not as it will help you a lot in the long run.
See whether your robotic Lawn mower works electronically or with the help of a mobile application. Nowadays, mostly lawn Mowers are using parameter wires along with the advanced artificial intelligence-based algorithms to make sure that the total coverage is possible or not. GPS technology works effectively to see which portion of the lawn is left and what has been covered until now.
Check, whether the chosen robotic lawn mower has a built-in Bluetooth and Wi-Fi feature or not so you can always try it whether you are at the venue or not.
Some incredible new models are also featuring the remote control feature for spot maintenance. The voice command feature is also being added for your ease as it saves time. The anti-theft methodology is also behind all of it, so you may always add a unique pin code. Voice command and GPS tracking feature will work along to locate the stolen item.
Installation method – DIY or Taking Professional services
Its installation can be pretty odifficult or easy depending on the lawn's dimension and structure. Nowadays many manufacturers offer specific online video tutorials and user manuals for your ease. Many relevant pieces of equipment are there in the market i.e. measuring devices, wires, relevant accessories, etc., so you may always end up doing it yourself. Just see how much effort, time, and money you are spending and is it worth or not.
Some professional brands of this product will do the entire installation process for your ease. Always check is it installed by a certified dealer or not so, you can spend a good amount of money on it. It may cost a bit more as it will worth it. Don't forget to check your blades' sharpness always because it plays an efficient role while cutting the grass and make your lawn up-to-date.
Final Words
After analyzing and seeing which features we need the most, it is also evident that we can't have all the elements in just one product. To see which works best for you, choose which has the best navigation feature, charging capability, Long battery time, some of the added-on features from mentioned above and most importantly it should be budget-friendly. If these features come in one product then just go for it without any confusion.