Top things to do in Dubai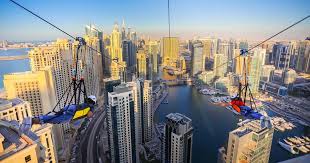 Seeing some of the best tourist attractions in Dubai would mean spending a fortune. Some of the places may attract more than Dh150 per ticket per person. If you decide to visit Dubai frame, then you may end up incurring Dh50 per person. However, there are several other places you can visit for freeand enjoy and even take part without handling over a fills. Despite what most of the people say about the upscale life in Dubai, there's so much you can do here either at a lower cost or for free. However, if you want to maximize your experience in this beautiful country, you have to dig into the pocket to make something happen. The city is becoming more and more attractive with so much things to do and places to visit.
From desert gateways to museums and some iconic monuments, parks and even some free classes to take, you can never be bored in Dubai. You can as well get here to shop for the best watches. Dubai is a home of high quality original time pieces that you can get at affordable price. Visit hamilton khaki field for the best offers. In this brief, we are going to discuss some of the things to do here and also state how much we are going to incur in the process.
BurjKhalifa
This is one of the best things to see in this beautiful city. It is a building that stands on 828 meters high which is hard to miss in your trips to Dubai. It is regarded as the world's tallest tower that dominates the Dubai skyline. Although you have been seeing this building in Videos, music and movies, its natural and beautiful state can be felt and appreciated up close or even better from inside. Even if you may not find enough time and money to facilitate your way in, you can just visit and enjoy its looks close.
Though, if you are visiting Dubai for some time, you can just spare some time to visit this place on a clear day. The observation on this day is absolutely stunning from the observation on level 124. If you are one of those people that wants to enjoy a meal on the air, then you can get it on level 122.
The Dubai mall
This is known as the shopper's paradise because it's a one stop collection of all the things that you would like to get from Dubai. This mall is right next to BurjKhalifa and hence you can visit the two places on the same day. One thing am sure about is that even sparing a full day in this place is not enough. The mall has over 1,200 shops and over 150 restaurants that offers the best services in Dubai. With all that, you can be sure there are plenty of things to see and do here. The site is also a home for an outdoor theme park, a huge indoor waterfall, the giant Dubai Aquarium and underwater zoo and a Choreographed outdoor fountain.
Desert Safari
Aare you one of those people that like interacting and performing some activities in a foreign country? If yes, then this is the best activity to participate in here. You should spare some time to go on a desert safari. The good thing is that there is several desert safari tours to participate in. Most of the people would testify that participating in any of these safari tours can increase your experience in this beautify country. The best safari is the one that includes 4X4 wheel drive and a BBQ options. Though, any desert safari is a good one to participate on. I can personally testify that this is the brestactivitiy to participate in here and it is actually at the top three recommendations for cool things to do in Dubai.