Find the Best Pocket Knife at White Mountain Knives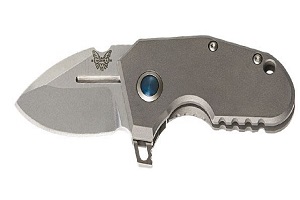 Start keeping a handy knife for everyday carry and it is an inescapable truth – within a day, two days at most, you will be amazed that you managed your life thus far without a blade within reach. Once you have a quality EDC blade, a knife becomes so much more than a knife and even more indispensable. Letter and package handling, detailing and cleaning are only a small sample of the suite of functions that a quality knife can perform for the bearer, revolutionizing everyday life in ways that were previously unknown. One of the most versatile and easy to carry options for an EDC knife is a pocket knife. Folding, variable in size, and lightweight, pocket knives are, as their name implies, designed to be carried in a pocket for ease of access. However, though they do not boast a fixed blade; quality pocket knives have wide, thick blades, capable of tasks that would at first glance seem to outrank them. One of the champions of this design and a pioneer in other avenues is Spyderco, and when you're gearing up to find the Best Pocket Knife your best bet is White Mountain Knives, where you'll find not some but many options to fit the bill.
You might go with the Spyderco Chicago folding knife with a leaf blade, with both a clip and a lanyard hole. It can be carried on a belt, a pocket, or easily attached to a keychain. Just 3 ? inches closed, but with a 2-inch blade, it's a mid-sized keychain knife that brings broad capability to the table. Its short blade takes advantage of 440C stainless steel and is secured by a liner lock. Housed in a rugged G10 handle, this is one small folder that can take punishment and stay standing. You might choose something like the all-stainless Byrd Robin 2, 3 ¼ inches closed with a 2-½ inch blade. Its all-stainless construction brings near indestructibility to the table in a tiny frame boasting a sturdy lockback mechanism to stand up to tasks that were previously the realm of fixed blades. Moreover, it has the lanyard hole necessary for mounting to a chain and a 4-way reversible clip for carry in any orientation you find most convenient.
On the slightly larger size but still functional as a keychain knife, there is also the demur but functional Spyderco Ambitious, also with a stainless blade and textured G10 handles, with a middle of the road 2 ¼ inch blade length. Its plain edge gets the most of its short length and is built to give reliable EDC functionality to the carrier. For the added utility of a serrated blade, you might be drawn to the Spyderco Dragonfly serrated folder, just shy of 4 inches closed. All stainless and with a sturdy lockback, this knife will excel when it finds itself in scenarios where a saw edge is needed. Then, at its purest form, the all-stainless Grasshopper is the epitome of a keychain knife – modest, all stainless, and less than three inches closed.
When you've settled on the best pocket knife that fits your sense of style and the load to which you intend to put it, there can be only one option for provision – White Mountain Knives. With its veritable encyclopedia of stock, excellent prices, and free shipping on orders in the United States, there is little left to the competition. White Mountain Knives' reputation is built in unflagging service to the customer and dedication to bringing the highest quality blades to the market with excellent prices. Moreover, in the unlikely event that you are seeking a model that isn't listed on their site, their phone book length of manufacturer partners and excellent vendor relationships mean, for you, that they have access to more stock than listed. Head to WhiteMountainKnives.com today where you'll find one – or several – excellent choices for your next companion knife.
For more information about Spyderco Pocket Knife and Benchmade Pocket Knife Please visit : White Mountain Knives.