Top 10 Travel Accessories to buy for a RV travel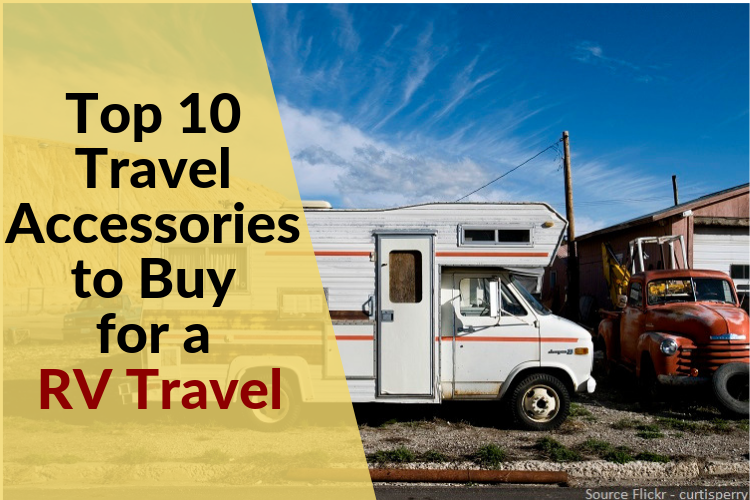 We all have a lot of desires to travel our dream destinations but few of us make effort to fulfill those dreams. Travel industry is one of the biggest industry worldwide generates more than billions of dollars every year.
Some people love to travel solo, some like to roam with their squad and some prefer RVing. If you heard this word RVing for the first time let me explain it. "When you travel on a RV (Recreational Vehicle) it's called RVing".
Before heading to your new destination with your RV make sure to equip it with necessary buy an RV travel accessories. Many of these items are easily available in most international supermarket and stores. The most important thing is that there isn't much space on a RV thus you must try to buy travel essentials which are useful and compact at the same time.
This post about top 10 travel accessories to buy for a RV travel will surely help you in choosing best ones for your next RV tour.
1.Solar Panel Kit
You will use a lot of gadgets and appliances while travelling on your RV and you must look for a secure power resource. Compact and silent generators are great but you will have to carry huge quantity of fuel on your way.
It is 21st century and there are much better options available these days. How about installing a solar panel on the roof of your RV so that you can make electricity on the go? That will be great, no doubt.
I have include a 4 piece 100W solar panel set here perfect to install over irregular surfaces such as RV, boat, tent, car, van, motorhome etc.
Features:
100W solar panels
High module conversion efficient
Lightweight and bendable up-to 30 degree
Easy installation
Water resistant
2.Compact Water Filter
Yes your RV has a water tank but possibly you may run out of water sometime. You must have a backup plan and a compact water filter can be proved worthy for purifying the water you get from local sources.
Brita water filter helps you in decontaminating harmful germs and other impurities of water. The best part of this device is that it offers great convenience.
Features:
Maxtra+ Cartridge
Electronic cartridge reminder
Removable lid
5 liter capacity
Extra portable and lightweight
3.Tool Set
RVing is fun but you have to make great effort in installing and maintaining all the stuffs. All these things can't be done with bare hands and you will need relevant tools to perform all the hard work.
Before buying tools for your RV make sure to buy multifunctional tools which will consume less space. It will be great idea to make a list of necessary tools and shop accordingly.
4.Headlamp
A headlamp will surely come handy while exploring the unknown destinations. A quality and powerful headlamp will help you in camping and doing other things easily in the dark.
Have you ever experienced fishing in the night? If not then try this time using this compact and powerful headlamp and trust me the experience will be totally mesmerizing. The Petzel headlamp listed here will improve your night vision and make your journey exciting and safe.
Features:
White and red light
Powerful 250 lumens
Rechargeable battery
Long-burn time
Made with comfortable head strap
5.Exhaust Fan
If you are new to RVs and don't know much about its necessary components then you must install an exhaust fan if your RV doesn't have one. Exhaust fans not only brings fresh air inside it also eliminates odor and other gases.
Set an exhaust fan in your RV's kitchen too, this will ensure safety during gas leakage. Doing this will help you in removing kitchen odor and hot air making your living space more relaxing.
Features:
High quality material
Water proof, dust proof
Noiseless
Universal fit
Exhaust rate – 2.3 cube meter/hour
2000 revolution/minute
6.Multi USB charger
Charging devices and appliances on the go is really a difficult task. Multi-USB charger could be a great solution and using it you can charge multiple devices at a time.
It will be possible to juice up your smartphone, laptop, speaker, tab and other devices at one place and one time with a quality multi-USB charger. The Anker charger listed here is developed with powerIQ technology to deliver fastest possible charge to the devices.
Features:
5 port 40W charger
PowerIQ technology for fast charging
High efficiency
Compatible with both Android and Apple
Lightweight and compact
7.Tire Gauge
Your RV's tires are the most important part which carries huge load and you must take great care of it. Always have a deep concern on maintenance of tires and measure the tire pressure time to time.
Forget old pressure monitors and analog gauge it's time to bring a latest digital tire gauge for your RV. The AstroAI digital tire gauge is equipped with lighted nozzle and LCD display makes it perfect to work in dark and low light conditions.
8.Wheel Chocks
These small things often underestimated by RV users because many of them don't even know much about wheel chocks. Whether you own a truck, trailer, RV or any other kind of four wheeler vehicles you must keep few pairs of wheel chocks for preventing them from rolling away.
Most of the big vehicles don't have automatic brakes and good quality wheel chocks and it is possible that your RV won't have also. There is a higher chance of rolling of your vehicle after parking which can cause big accidents.
9.Sewer Hose
RVing not become entertaining when it comes to sewer treatment. If your RV doesn't have a biodegradable or a composting toilet then you have to invest on a good quality sewer hose.
A sewer hose helps you in storing all your toilet stuff in the sewer without much effort. Your RV has a small toilet tank and it is necessary to empty it and a sewer hose will help you in emptying it conveniently.
10.First Aid Kit
Do not forget the first and most important rule of travel: safety!
First aid can save your life in case of any accident or emergencies. First aid is no doubt life savior and you cannot afford to risk life of your loved ones when you are hundred miles away from your home.
There is a huge list of first aid products and it will be difficult to buy them individually. Instead of buying a whole first aid kit will be a great idea and will save your lot of time.
Features:
200+ essentials included
Lightweight and durable
Accident ready
Highly organized
Bottom Line
Travelling helps us in exploring new places and spending quality times with our loved ones. Roaming new destinations with your friends and family members always add new and unforgettable experiences to our lives. A RV makes all the things possible if loaded with best travel accessories.