Why we need to be selective in choosing video converter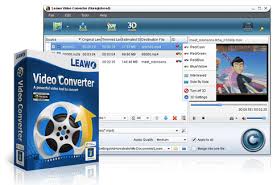 Today video streaming is an integral part of our lives. Many people can't live without it and this is why YouTube is one of the three most accessed online sites today. People use YouTube as an entertainment facility, learning media, promotional tool and so on. This is a multifunctional video-streaming site and although every year new competitors emerge, YouTube is still sitting comfortably on top until now. It is the best video streaming site!
Video streaming has changed the way people search for music. Instead of buying music CDs, they choose to download them directly from YouTube or other video-streaming sites. The problem is not all download results can be played on the laptop / destination computer. There are many different video formats and some of them can't be played on most laptops / PCs. What is quite a relief is that most of them (the formats) can be encoded by a special tool, the so-called video converter. But not all video converters can be used to convert certain formats and therefore, you should choose a converter with the most extensive conversion range.
There are several classic problems that accompany the use of a video converter. One of the most striking is the decline in the quality of the converted video display. In some video converting actions, a decrease in video display quality is a classic problem that often arises. Each video converter competes with each other and they compete to support new formats. If you want to get rid of all the problems, it's important that you select a number of selected converters before making a choice on one of them. Choosing the best HD converter software is a must if you want the best quality of video display.
Finding information before buying the converter is something you must do. You can ask people on online forums and they will be happy to answer all your questions. You can also ask people you know, which I believe some of them use video converter routinely. Any consideration should be based on your real needs and it is important to note that prices should not be a primary consideration. You certainly can convert for free but to do unlimited conversion, you need to take the paid option. Movavi, AVC, Aiseesoft, Wonderfox and Aimersoft are a series of video converters that should be taken into consideration.
Edit, replace and cut
Not only convert, you can also edit, replace and cut video fragments so you can get a better final result. The above applications have the ability to do that and unfortunately, most unpopular applications only stop on video conversion, no more!
Additional tools outside of simple conversion facility
Keep in mind, some video converters offer additional tools beyond simple conversion facility. They offer a kind of downloader that functions to direct you to sites, services and applications so that you will not experience difficulties when you experience a failure when converting certain videos.