The SKNV System Enables Local Dermatology Practices to Win with Digital Convenience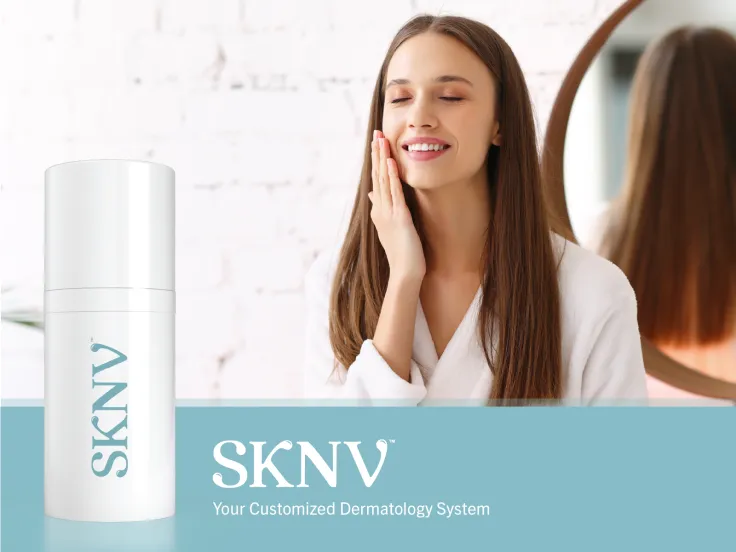 SKNV is proud to announce the launch of the SKNV System.  Delivering local dermatology practices one easy-to-use solution with exclusive customized medications, skincare offerings, and a digital health platform is needed to effectively compete against direct-to-consumer (DTC) companies seeking to take their patients. 
DTC companies have been doubling in size annually since the beginning of the pandemic. These online-only offerings often disguise their ultimate plan to replace local dermatology practices with their on-staff telehealth doctors by offering discounts on the initial prescription medicine.
As a trusted champion of local dermatology practices since 2015, SKNV is directing all its resources (including $35M in recent funding) to stop DTCs from taking patients from existing practices by giving local dermatology practices exclusive customized medications, skincare e-commerce, and online digital health tools to win in the brave new world of modern healthcare.
Dr. Spencer Malkin, Founder and CEO of SKNV, said, "SKNV empowers local dermatologists with advanced, customized solutions that modern patients seek without losing the personal care from local providers they trust."
The SKNV system revolutionizes how local dermatology works on three levels to create a more fine-tuned solution than DTCs offer for the individual needs of modern patients:
Customized Medications for Sensitive Skin (Exclusive to Local Dermatology Practices)
Up to 70% of the population reports having sensitive skin. The typical prescription medication has up to 93% inactive ingredients, which can be problematic for certain patients dealing with sensitive skin — potentially turning needed skin prescriptions into skin irritants. With SKNV, an FDA Registered 503B Outsourcing Facility, local dermatology practices can prescribe customized medications in a topical formula without the preservatives, fillers, and other inactive ingredients that may irritate sensitive skin.
By addressing this significant gap in prescription skin care, SKNV enables local practices to exclusively offer over 120 customized medications made for sensitive skin that cover all major skin conditions.
And unlike DTC subscriptions, SKNV empowers the local dermatology practice to decide the right potency and vehicle for each patient. This means people with sensitive skin who need a different version of prescription medicine can now get it, and their doctor can adjust the dose as needed.
SKNV's customized medications are already in every EMR, making it as simple and easy to order as any prescription without the need for prior authorization from insurance companies. At $55 or less with free shipping, an SKNV customized medication often costs less than a copayment.
Skincare E-commerce Enabling Patients to Buy Online from Their Local Practice
Online skincare stores with subscriptions are how DTC companies keep consumers engaged, knowing it's easier for people to buy skincare online than schedule a visit to their local practice. By delivering monthly skincare to their home, DTCs are keeping consumers loyal to their care and Rx offerings all year long (and beyond).
SKNV enables local practices to do the same with sknvcare, the branded skincare line core to the SKNV system. Unlike traditional skincare sales where practices must first buy the bottles, each local practice on the SKNV system has access to a best-in-class ecommerce store without purchasing inventory. Practices can participate in the proceeds in exchange for their marketing support.
Digital Health to Increase Engagement, Compliance and Loyalty Between Office Visits
With exclusive medications and skincare in hands of local providers, the final puzzle piece is the digital health capabilities SKNV delivers to dermatology practices. The SKNV system leverages leading ecommerce and customer communication technologies to significantly enhance the local doctor's ability to prescribe, refill and help patients proactively manage any number of skin conditions.
In addition to customized medication refills and ongoing skincare needs, SKNV also provides digital health add-ons that include seamless telehealth and secure messaging (all managed by the local practice), to better manage patients between in-office visits while creating additional revenue streams.
The lines for the future of dermatology are drawn, and SKNV is in the corner of local practices. With SKNV only available to patients through their local dermatologist, practices can rest assured they are offering a unique customized dermatology system.


Dermatologists can select the SKNV Pharmacy from their EMR and choose the right customized medication for patients. Visit www.sknvmatch.com to view a list of the current SKNV medications available.
The SKNV system is the secret to local dermatology practices staying ahead in today's rapidly changing, modern healthcare landscape.
About SKNV Inc. SKNV is a pioneer in customized medications and skincare solutions for leading dermatology practices across the United States. SKNV places the power to fully manage customized prescription care back in the hands of local providers. The SKNV Customized Dermatology System delivers targeted results and repeat purchases through tailored regimens in preventative, curative and maintenance skin care. Learn more at www.sknv.com.