Is It Possible For Foreigners To Get A Job In SEO In Singapore? What Skills Do You Need?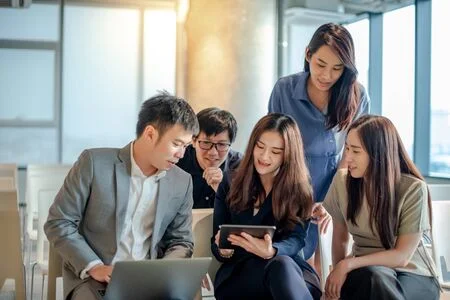 Singapore is one of the twenty smallest countries in the world, however, for what it lacks in size, it makes up for in spades with its reputation as an economic powerhouse, cultural hub, and modern architectural marvel. Not only is the country widely popular among tourists, but it is fast becoming a sought-after expatriate destination for foreign professionals looking for a fresh start and an incredible lifestyle to boot. The question is: is it possible for foreigners to get a job in SEO in Singapore? What skills do you need to secure a position for yourself? In this article, we'll take a closer look…
Is it possible for foreigners to get a job in SEO in Singapore?
If you're a digital marketing enthusiast and you'd like to see where your skills can take you, you'll be pleased to learn that there is opportunity for foreigners to pursue a career in SEO in Singapore.
Not so dissimilar to many other countries in South East Asia, the scope of work available for foreigners in Singapore is rather limited. Aside from teaching, hospitality, real estate, recruitment (and other specialised sales jobs), and digital marketing – the only other real opportunities for employment lie in highly specialised roles / working for multi-national companies.
In any case, if you are an experienced and qualified SEO expert, securing yourself a position at a Singapore based SEO firm is entirely possible!
What skills do you need to work in SEO in Singapore?
Given how competitive the market is, and the fact that obtaining a work permit and permanent residence (so long as you are gainfully employed of course) is highly sought after, if you wish to secure a job in SEO, you're going to need to bring a lot to the table.
While it may indeed be possible for you to secure an entry level SEO job in Singapore with very little in the way of experience, it will not be easy. Again, there are many, many qualified experts who would jump at the chance to secure a job in Singapore and relocate.
As a rule of thumb, you should have the following skills and qualifications under your belt:
A minimum of three years' experience in digital marketing / SEO / web development.
A formal education in digital marketing isn't an essentiality, but it can't hurt your application.
You must have a comprehensive understanding of the industry and the fundamentals of SEO. Employers are looking for candidates who have/can:
Conduct proper keyword research.
Basic HTML skills.
Implementing keywords into onsite optimization and content creation.
Copywriting skills.
Experience with developing content / creating infographics, etc.
Thorough understanding of creating a comprehensive backlink profile.
Awesome communication skills (bi-lingual candidates with business-level languages will be favoured).
And so on.
Additionally, while it is certainly more time and resource intensive – it is possible for a foreigner to set up an SEO business of their own in Singapore. Of course, you will need to have enough money to invest and get set up with all of the appropriate legal fees, etc. However, so long as you have the means and the ability, going down the self-made route could be worth exploring.
Conclusion: There's plenty of opportunity for skilled SEOs
In conclusion, it is indeed possible for foreigners to get a job in SEO in Singapore. While it will certainly be highly competitive, if you have experience in the industry and you can prove that you will bring great value to their agency, securing a high-quality position, along with a work permit and all other benefits, should not be out of your reach!