Why Local SEO is Important for Small Businesses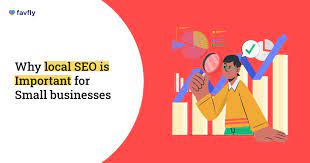 Having a local SEO strategy is important for small businesses because it helps them get in front of customers looking for local services. With Google's recent changes, it is even more vital for small businesses to be aware of how to optimize their site for local searches if local SEO pricing from agencies is out of their price range.
NAP
Having a NAP (name, address, and phone number) is a good way to gain local SEO rankings. When done correctly, you can get in front of consumers looking for your business. In fact, it is a necessary component of successful local SEO.
Incorrect NAP information can confuse customers and lead to lost sales. In addition, you might not show up in local SERPs if you have different phone numbers for each location.
If you are using Google My Business, be sure to add your name, address, and phone number. You should also check your website's contact page to make sure it is accurate. Having a consistent NAP is one of the best ways to improve your ranking and visibility.
The best place to display your NAP is on the footer of your website. You can also include it in your code. A Schema local business markup is an effective way to do this. This helps search engines understand the data better.
The NAP might be the most important element of local SEO. It is the first step to building your profile and improving your rankings. It also makes your business more credible to Google. In addition to the name, your website should have a NAP that is consistent across all directories and data aggregators.
A solid local SEO strategy includes having a comprehensive NAP profile, building citations, and conducting regular quality audits. In addition, it is important to ensure that your content provides equal value to your location. This can help increase your rankings and drive more traffic and leads.
A consistent NAP is the first step to getting more visibility and generating more leads. It is also a great way to build trust among your audiences. In addition, it can earn you big results for virtually no cost. Creating a NAP profile will also help your business increase its ranking on the Google Local Pack, which will help you get noticed by customers.
The best way to ensure that your website has the right NAP is to keep a record of all the listings you have. The more relevant your listing is to your location, the more reliable it will be to Google.
Schema markup
Adding local schema markup to your HTML is a smart way to enhance your page's visibility in search results. It also helps to provide better navigation to your site and improves your click-through rates.
There are various types of schema markup to choose from. For example, you may want to consider implementing the department schema. This type of schema markup helps you to mark up chain retail businesses. Similarly, you may want to use the breadcrumb schema to improve your navigational structure.
The best part is that these kinds of local SEO strategies can be used on your website without the need for a developer. In fact, many plugins for search engine optimization already have this functionality built in. This means you don't need to hire a team of web developers just to get your site on the map.
Another option is to use the Google structured data tool. This tool will automatically generate a globally unique ID for each data item you add. For example, you could add an address, a phone number, and the hours of operation for your business. If your website is multi-location, you'll also need to markup each location individually.
Using a good plugin will make the process quick and easy. You can find a free version of the schema plugin in your WordPress dashboard, and there are also some nifty paid versions available. You can also purchase a one-on-one support plan to ensure you're getting the most out of your local SEO efforts.
The best way to implement these SEO strategies is to follow the instructions. You can either create a custom HTML tag or use a markup tool to highlight the items you want to mark up.
Choosing the right types of schema is important for boosting your business. You'll need to be picky about what you're marking up and remember to only markup visible content. Besides, you don't want to make it obvious that you're trying to manipulate the ranking.
Using schema markup in your local SEO strategy can improve your rankings, boost your brand, and give you an edge over your competitors.
Keyword research tools
Whether your business is large or small, you can use local SEO tools to help your company reach customers near your location. These tools can also measure your site's performance and provide you with information on how people are finding your business. These tools can also help you track the changes in your rankings over time.
Moz offers a suite of tools for organic search engine optimization. It includes Moz Link Explorer, a tool that provides a thorough analysis of your backlink profile. It also includes a tool that monitors brand mentions.
Serpstat is a comprehensive SEO tool that can perform competitive keyword research and analyze your citations. It is available at a lower cost than Ahrefs or Moz, and it has a wider range of websites and keywords. It can also perform an audit of your online citations and find issues quickly.
SE Ranking is a comprehensive local search engine optimization tool that includes keyword research, competitor analysis, and rank tracking. It provides data on keywords in Google and Bing, and it can visualize your rank in local SEO reports. It has a flexible pricing plan, based on the amount of data it gathers. It also has a white label feature.
BrightLocal is another tool that can help businesses improve their local SEO. It includes an interface that lets you select three keywords to see the results. It can also filter the data by locations. It also offers a free version.
Semrush is another tool that can be useful for crawling and monitoring your citations. It provides all the keywords for which your business is currently appearing in local search engines. It also gives you access to all the local keywords your competitors are using. It provides insights on the best keyword strategies and offers an easy site check. It is an excellent resource for companies of all sizes. It also comes with a low monthly fee.
BuzzStream is an important local SEO tool that helps you earn local backlinks. It also gives you an overview of your team's performance. It can also help you build relationships with local influencers.
Conversion rate and traffic from local searches
Whether your business is a brick-and-mortar store or an online service provider, the conversion rate and traffic from local searches for small businesses is critical. These days, most consumers use the Internet to find local businesses. Getting your business to the top of the search engine rankings can bring in a wide range of prospective customers. Invest in a robust SEO system to guarantee higher rankings.
One of the most important aspects of search engine rankings is the speed at which your business page loads. Studies show that a business page that loads too slowly can result in a significant decrease in conversion rates. In addition, a poor experience on your website can have a negative impact on your brand reputation. It can also scare away potential customers.
Another factor that can have a significant effect on your conversion rate is the number of reviews you have. The more positive the reviews, the more likely your business will be to get a high conversion rate. Similarly, a high percentage of negative reviews can have a negative impact on your conversion rate. A good conversion rate is generally around 2% to 5%.
Several other statistics support the fact that the more positive a review is, the more likely a customer is to purchase from that business. Most consumers read reviews before making a purchase. Ideally, your business page should have at least four positive reviews. This helps to demonstrate credibility and transparency.
A survey conducted by BrightLocal found that 85% of consumers consider online reviews as much as personal recommendations. Furthermore, 81% of consumers turn to Google to assess a local business. While most consumers look for positive reviews, 82 percent look for negative ones.
In addition, 58% of consumers search for local businesses on their mobile phones every day. These searches are important because these customers are more likely to visit a physical store. They also form long-term relationships with your business.
To increase the odds of your business converting, it is important to have a mobile-friendly site. Approximately half of all local searches on a smartphone will lead to an in-store visit within a day.