8 Places to Research Energy Investment Companies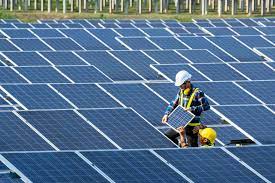 Are you interested in investing in energy companies? By 2027, the energy market is expected to reach 1.1 trillion U.S. Dollars, so there will be plenty of opportunity for profit.
However, the oil sector is highly competitive and volatile, so choosing an energy company to invest in is a high-risk strategy. One wrong move could see your investment wiped out in the blink of an eye.
For this reason, doing your due diligence, which involves researching the energy company you intend to invest in, is vital before committing your money.
Here are eight places to do your research when looking into energy investments.
1) The Company's Website
The first place to research any company is its official website. You should be able to find a lot of helpful information here. For instance, an online biography or corporate overview will tell you everything you need to know about the company's history and how it operates.
Furthermore, the website typically lists the company's directors and executives, like this petroleum company's page about its board member Amir Handjani. Reviewing this type of information can help you get to know the people behind the business. Also, don't forget to look at the company's annual reports, press releases, and videos on its official website and social media accounts.
2) The Oil Industry and Energy Industry Reports
Once you have done basic research online, the next step is looking at other industries and markets. The oil and gas industry is highly advanced. As such, many comprehensive industry reports and studies are accessible online.
These reports typically cover a wide range of topics, such as projected capital expenditure (CapEx) across the sector, the size and performance of the sector's leading players, and the global economic outlook.
Also, looking at the other energy sectors is an excellent way to gain insight into the energy market as a whole. For example, understanding the renewable energy sector can help investors understand the traditional oil and gas sector and its future.
Investing in the energy market could be worthwhile if the energy industry is expanding and technology is changing rapidly.
3) The Stock Market
You can also do your due diligence by checking out the stock market and conducting a fundamental company analysis. A standard company analysis involves analyzing its net asset value (NAV), balance sheet, income statement, and cash flow statement.
If the company's share price outperforms its NAV, it could be a good investment – though this isn't always the case. Remember to also look at the company's debt-to-equity ratio when deciding whether or not to invest.
4) Analysts' Reports
Once you have done your research, the next step is talking to energy analysts and investment experts. They can give you their independent perspective on the company you are interested in investing in. They may have industry insights that can help clarify whether or not you should invest your money in the company.
5) Seeking Alpha
Seeking Alpha is an online forum allowing energy experts to discuss energy stocks and share their opinions publicly. You can find a wealth of information here, including market outlook, which should help you decide whether or not to invest in a specific company.
6) Industry Associations
Industry events are excellent opportunities to gain valuable insights from industry leaders. Most industries have industry associations that host conferences and other events throughout the year. For example, the OPEC meetings bring together energy experts from around the globe to discuss global energy policies and energy and technology trends.
7) Industry Blogs
Blogs also provide valuable insights into the energy market. "Renewable Energy World." is one of the best industry blogs out there. Read its articles to keep up to date with the latest developments in the oil and gas sector, such as new drilling technology or renewable energy trends.
Additionally, industry blogs often discuss different oil and gas companies in depth, giving you an idea of their strengths and weaknesses. If a particular company is causing a lot of controversy in the energy market – for example, it practices hydraulic fracturing at unsafe speeds – you might want to avoid investing in it.
8) SEC Filings
Finally, you can also do your due diligence by consulting the Securities and Exchange Commission (SEC) and the U.S. Securities and Exchange Commission (SEC).
The SEC is another excellent source of information for investors seeking information about energy companies. Publicly traded companies are required to file financial reports with the SEC regularly, providing a wealth of information about their finances and performance.
Wrap Up
Investing in energy stocks can be a high-risk strategy, so it is crucial to do extensive research before committing your money to a company.
Thoroughly researching the company's website, online presence, communication with industry analysts, and stock market trading can help you to determine whether or not it is a viable investment.
Once you have decided, you can invest in the company; however, use other investment strategies to lower your risk and protect your investment.