Distinguishing Between Types of Medical Transportation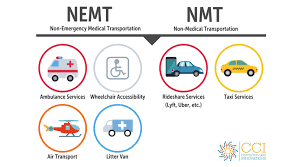 When it comes to medical transportation, it's important to understand the difference between emergency and non-emergency medical services. There are also differences between air and ground transport. Depending on where you need to go, your budget, and the severity of your condition, you may want to choose a different mode of transportation.
Non-emergency medical transportation
Non-emergency medical transportation (NEMT) is a service that is available to patients who need transportation to a medical appointment. This type of transportation is not only beneficial to the medically disadvantaged, but it also helps to lessen the impact of chronic diseases and disability. The cost of non-emergency medical transportation is relatively low, and it's an excellent option for people who can't drive themselves.
Non-emergency medical transportation is often covered by Medicare. To qualify, your doctor must fill out a form for NEMT. Your insurance company may also cover a portion of the cost of the transportation. For medical treatment, non-emergency medical transportation is an affordable alternative to ambulances.
Medicaid will also cover non-emergency medical transportation. However, if you don't communicate with your NEMT service, you may find yourself paying a fee for the service. You can avoid this by calling ahead of time to cancel your ride or letting them know that you will be late. This will ensure that your transportation experience is as smooth as possible.
Non-emergency medical transportation is used for patients who need transportation but do not need an ambulance to get to the hospital. It can be used for routine medical appointments, as well as for recurring treatments and medical procedures. The level of coverage and level of care vary widely, so you'll want to compare services thoroughly before choosing one.
Non-emergency medical transportation is a profitable business. On average, a full-time NEMT provider can charge between $20 and $60 per hour. Rates vary by state.
Door-to-door transport
Door-to-door medical transportation is a service that makes it easy for patients to travel from their home to their medical appointment. A trained driver will enter a patient's home and help them to board the vehicle. The driver will also help the patient alight from the vehicle. This service is ideal for elderly patients or college students who need extra assistance to leave their homes.
BPS provides door-to-door medical transportation to eligible students with a disability or medical condition. In order to receive door-to-door medical transportation, the student must have a completed Individualized Collaborative Health Plan. The plan can be obtained from a child's doctor or through the nurse at the school. Once the plan is completed, the nurse will submit it to the Student Support Team. The team will then determine if the student meets eligibility guidelines. Individual schools have different rules and regulations regarding requests for medical transportation.
Non-emergency medical transport (NEMT) services are also available. This service can support a variety of medical services, including recurring medical treatments, physical therapy, and mental health appointments. The availability of reliable, accessible transportation is important for patients and healthcare providers alike. Door-to-door medical transportation services can reduce the stress of a patient and their family while they are in need of medical attention.
Home-to-door medical transportation is available through a number of local organizations. The Norwalk Transit District offers door-to-door medical transportation and offers lift-equipped vehicles. The district also offers financial assistance to cancer patients to help them get to and from their medical appointments. The ride may cost a membership, but there are also scholarships available for those who cannot afford a membership.
Advance life support ambulances
Advance life support ambulances provide medical transportation for patients who need a higher level of care. They have two fully qualified paramedics on board and are equipped to provide advanced airway management, medication administration, cardiac monitoring, and other advanced life support procedures. These ambulances are equivalent to those provided by local 911 agencies.
These ambulances are required to meet a high level of safety standards. They must have a physician on board and a certified paramedic on board. The ambulance must be marked for advanced life support as well. This means it must be equipped with reflective three-inch lettering. Ambulances that are not marked as such may contain carbon monoxide, a hazard to occupants. Carbon monoxide levels can be as high as nine parts per million in an ambulance's interior. This hazard can also be caused by a mechanical issue in the ambulance.
The Office of EMS regulates advanced life support interfacility transportation. They provide advice and assistance to EMS providers in Delaware and monitor ambulance services to ensure that patients receive effective care. By establishing standards and establishing training for paramedics, the Office of EMS is committed to helping patients receive the care they need.
Empress Ambulance Service is an EMS provider that has been awarded a special recognition by the American Heart Association as a Gold Level EMS provider. It is a part of the Mission Lifeline program and provides expert care for patients suffering from heart attacks and other emergencies. While the service has an excellent reputation for providing expert-level services, there have been some reports of complaints that the ambulances do not arrive on time or are not available.
Curb-to-curb transport
Curb-to-curb medical transportation services can transport patients to and from their medical appointments. These drivers assist patients with getting into and out of the vehicle and help them get to the appointment room in a timely manner. Drivers can also assist those who require wheelchair or stretcher rides.
These services will come to your home, or your destination, and will wait for you at the curb. They will help you get in and out of the car, so you don't have to worry about navigating the streets. This type of service is especially helpful for the elderly and people with disabilities. It also provides a sense of security.
Curb-to-curb medical transportation differs from emergency ambulance service in several ways. In emergency situations, ambulances are usually reserved for patients who are in extreme danger, or whose limbs are at risk. Non-emergency medical transport services are a much more cost-effective solution. They can transport patients in wheelchairs or beds, or even those who need special attention. Different services have different levels of service and can provide different numbers of drivers to meet the needs of their clients.
Foreign language interpretation services
When it comes to transporting patients, there are two basic types of service: emergency medical transport and non-emergency medical transport. Emergency medical transportation is used to bring patients to a hospital fast, but non-emergency medical transportation is for people who do not need medical care while they are on the road or who do not have to see a doctor as soon as possible. Non-medical transportation includes all other transportation to Medi-Cal services, and typically includes taxis.
When a patient needs emergency medical transportation, an ambulance is used. An ambulance will usually drive the patient to a hospital or trauma center. These ambulances have trained crews who provide life support and first aid to patients. Once the ambulance arrives, the team will report the patient's condition to a doctor. However, non-emergency medical transportation is used for various purposes, including doctor's appointments, physical therapy, dialysis, and other treatments that do not require life-threatening medical care.