Comparison Of Gold Vs. Bitcoin: Which One Is Good For Investment?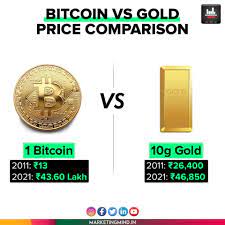 Historically, people consider precious metals like gold a safe investment choice. Gold is one form of investment portfolio that gives up maximum returns. Moreover, bitcoin is another popular investment option. During the pandemic, many people trusted digital currency as a safe investment method. Both assets offer plenty of benefits so you can choose the best one which meets your requirements.
Are you confused about what to choose, whether bitcoin or gold? Well, you can learn a comparison of gold vs bitcoin. There are many aspects to consider while choosing the right investment method, like investing goal, risk tolerance, and strategy.
People use Gold in different forms like gold coins, jewelry, and much more. In addition, it is used in luxury goods, electronics, dentistry, etc. The utility of Gold can maintain its value, and then the value of other assets goes down.
Bitcoin has limited utility when used as a digital currency. It uses emerging financial technology for financial transactions known as decentralized finance. BTC is used to purchase or sell many things.
Government and its policies regulate precious metals like Gold. Rules and regulations for weighing, selling, and tracking gold guarantee quality assurance, legality, safety, and transparency.
Digital currency offers the maximum level of transparency with its blockchain system. It enables the complete method to be decentralized and transparent. You can store the BTC more easily than the gold coins or jewelry. Remember, Cryptocurrency's legal state can vary from country to country.
Gold is not volatile like Cryptocurrency. But bitcoin is unstable, which means its cost can vary constantly. Nowadays, many alternative cryptos have been launched to provide stability. With the help of Binocs, you can perform the crypto tax effortlessly. 
Gold is an extremely liquid asset that can be exchanged for fiat currency without hassle. There are plenty of gold buyers and sellers in the market. You can choose the best seller and sell gold at the current market price.
Bitcoin is a liquid that enables the user to pay the bill within a short time. BTC can be more liquid sometimes than other assets, but not always. You can complete the bitcoin transaction quickly. The daily limit in bitcoin makes it hard to rapidly pay a debt a huge amount in critical financial situations.
When the cost of BTC is higher compared to the daily limit allowed by exchange, you can perform it in lower increments. Those who have many BTC can get a lot of liquid assets. In addition, if traders start selling the crypto, the bitcoin cost drops significantly.
Conclusion
Bitcoin and gold are the perfect investment method against fiat currency inflation. Precious metal has the biggest customer base worldwide, and BTC has many customers. The BTC market is predicted to develop multifold with the expertise of traders. A financial advisor's aid to create an effective investing goal and device gold or bitcoin is a perfect investment.