Underrated artists and some of their brilliant music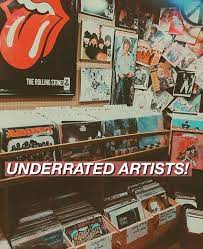 Normally we see certain names that are usually in the spotlight. These artists include Justin Bieber, Ed Sheeran, and Ariana Grande. However, there are some artists who are very much underrated and their music goes unappreciated. These artists are very talented and they should get more attention than they do right now. These underrated artists also have their music on Spotify, to get a subscription you need to make sure you have a good internet connection. Getting yourself Xfinity packages would allow you to not only manage your internet services but also manage your TV and your phone services under one umbrella. As soon as you get Spotify, be sure to listen to these artists and vibe with them.
Collin Selman
Collin Selman is a severely underrated artist in the United States. He has a very dreamy sort of genre and most of his songs are soft and are a pleasure to vibe to. He has the kind of music you would want to play in your car at night and go for a long drive. Some of his most amazing songs include YOUlogy, dayDREAM,and, ETC. Collin is currently very young but he puts a lot of effort into his music and that visibly shows. Collin is very gradually gaining popularity but he still has a long way to go. Normally, one would feel a very intoxicating feeling after listening to Collin's music, especially YOUlogy. For someone as hardworking as Collin, we really hope to see him get the acceptance and fame that he very much deserves.
Tame Impala
Tame Impala is like a one-man army. Kevin Parker who is originally from Australia runs it. Tame Impala's music is more or less psychedelic music and is the kind of music that just makes you feel good. The music takes a lot of inspiration from the 70s and the 80s and that is exactly what makes it stand out from the rest. Not only is Tame Impala's music amazing but Kevin's vocals are amazing as well. One of the best albums, which were loved by people all over the world was Currents which was released back in 2015 and is still loved by people today. The most popular songs from the album include "The Less I Know The Better", "New Person, Same Old Mistakes", "Let it Happen" and "Yes I'm Changing". Tame Impala is slowly gaining popularity all over the world as people continue to listen to Kevin's music. The Less I Know The Better was even used as a meme song at one point and that is where the song got its popularity.
Dominic Fike
Dominic Fike is also a name that is severely underrated. Dominic is a 26-year-old aspiring artist and he began his career by making music and uploading it onto SoundCloud. He then signed on to Columbia Records as his record label and he then began releasing music commercially. He released his debut album in 2018 called "Don't Forget About Me" and in 2020 he released his second album called "What Could Possibly Go Wrong?". Dominic began gaining popularity and recognition after he was cast on Euphoria as Elliott, who is also a musician and is a friend of Rue and Jules. Dominic also gave some of his music to the show and that is where people actually realized that he is a pretty talented musician. Not only is Dominic a good actor but he is also an amazing actor as well, his role as Elliott in Euphoria was very captivating.
Glass Animals
Glass Animals is a British band that was formed back in 2010 in Oxford. Although they have some pretty catchy music, their music hasn't really been as famous as it should have. They always have upbeat music and they have a very Coldplay vibe to them, which gives them the edge of being amazing. Recently, they released their song called "Heat Waves" which finally paved the way to fame for them. The song was widely accepted throughout the world and people absolutely loved it. They used the song for their videos, especially on TikTok as the song started becoming a trend on it.
The 1975
Another band formed in the United Kingdom, it is safe to say that the UK has a lot of amazing music. Singer Matthew Healy who goes by Matt for short leads the 1975. The 1975 has worked very hard over the years to gain some popularity and some of their music has been featured in movies as well such as The Sound in Me Before You and Somebody Else in The Edge of Seventeen. Somebody Else was also featured in an episode of Thirteen Reasons Why and this is how we can see that The 1975 has been gaining popularity. You can stream their music on Spotify through an active internet connection that is reliable such as Xfinity internet.
In Conclusion
Some artists who arehardworking and it is our job to give them the recognition and the fame that they deserve. No artist should ever go ignored and we must make sure we appreciate their talent by indulging more in their music!