7 Cool Hacks to Do with Your Android Phone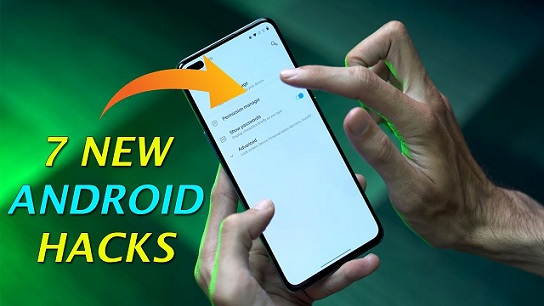 Did you know that more or less 70% of the people in the world are Android phone users? People prefer Android over iOS mainly because of its user-friendly features and less expensive price tag. And this trend might continue in the coming years unless some game-changing innovations occur in the mobile phone industry.
Despite being a widely used phone in the world today, there are still some of us who don't know or do not fully utilize the amazing features of our favorite operating system. There are many amazing things to do that you can learn, like applying unique widgets or navigating how to screen record on Android. So in this article, we will teach you some hacks to try on your phone.

Adjusting Different Volumes for Different Apps

Many of us do not know that Android has built-in options that let its users adjust the volumes for different apps available on their phones. All you need to do is press the Volume Up Key and tap on the 2 or 3 dots that you can see on the volume bar. From there, you can now adjust the volume of your ringtone, notification, system sound, and the media player.

Keeping Your Apps Private

We use our phones not only for work but even for our private lives. Because of this, keeping our data on our phones, such as messages, photos, and video albums, is a must to protect our privacy from other people. And to help you guard your personal space against any potential privacy intruder on your Android phone, you can easily download AppLock in the Playstore.
With this app, you can now protect and secure your SMS and other applications with passwords, patterns, or even fingerprints.

Reduce Your Charging Time

Most of the new Android phones today are now built with fast-charging capability. But do you know there are still some tricks to make your charging time faster? And the way to do this simple trick is by only switching off your phone or putting it in Airplane mode.
With this, your phone won't allow any process in the background. It also lets you make the charging speed quicker. You can try this trick even if your phone does not have a built-in fast-charging feature.

Zooming in by Tapping Screen 3 Times

Do you have poor eyesight? Well, this Android hack is made especially for your convenience. By tapping the screen of your phone, you can now zoom in or zoom out to see the display on your screen. But you must activate this feature by going to Settings, tapping Accessibility, and choosing the Visibility Enhancement. After that, turn on the Magnification, then select the Triple Tap to Zoom.

Using Google Maps While You're Offline

Have you ever experienced traveling with Internet network issues affecting your navigation while on the road? To avoid this, having an offline map can be useful. To do this, download your desired Google Map and use it whenever you need it on your travel journey. Remember that before traveling, preparation is a must to avoid any inconvenience.

The Floating Keyboard

With your Android phones, you can now have a keyboard that can float anywhere you want on your screen. You can also resize it and change the color or theme of this keyboard at your convenience. To do this, first, you must download and install the Google Gboard Keyboard App. Then go to the SMS, tap on the three dots in the top corner of the keyboard and select "Floating." With that, you can now easily float and place the screen keyboard anywhere you want.

Lost Notification? Bring It Back

For sure, most of us have accidentally or unknowingly swiped away important notifications popping on our phones. But don't worry, we do have some tricks to recover these lost notifications in our Android. To recover these notifications, you need to tap and hold an empty part of the screen until the screen-adjusting mode shows up.
From there, choose the Widgets and find the settings shortcut. Drag this icon into any part of your screen and let the list pop up on your phone. And lastly, choose and open the notification log to see what you may have missed.

In a Nutshell,

As we said earlier, Android phones are proven to be user-friendly gadgets that help people do things more efficiently. But still, some of its users are not well informed of its features and potential. And with the hacks that we list above, we hope that we have given you some help to fully understand your phone and how to maximize these features for your advantage.
If you want to be updated with the hottest news about your Android phone and other topics in the digital space, visit CellularNews.com.