10 Important Key Points Why Videos Should be Used For Business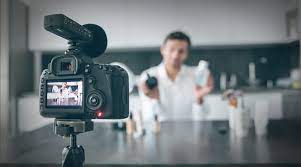 The evolution of the internet has made it easier than ever to reach potential customers, and video is one of the most powerful tools at your disposal. Whether you're a small business or a large enterprise, adding videos can make a huge difference in marketing and sales. A video expresses more than mere words, making it an effective way to communicate to a wide demographic. Marketing and promotional videos have grown exponentially in recent years as businesses realise how valuable this tool can be for communicating with existing and prospective clients.
Here are ten Important Key Points Why Videos Should Be Used For Business:
1. Increase your brand awareness:
It's well known that videos can help brands build brand awareness and product recall. That alone says a lot about the fact that videos have the ability to capture and retain attention. When people watch a video, they are more likely to remember it. This means that video messages have the ability to significantly increase your reach as well as your revenue. Videos are more powerful than text-based content in terms of creating a real engagement with your audience, and this is what will bring them back to your brand.
2. Increase sales:
Videos are more engaging than written text and therefore create a better connection with your audience, who can be far more responsive if you're able to draw them in. There's no doubt that videos are a great way to inspire people to buy products or services. Videos are becoming a crucial part of sales as more and more companies are realising the importance of this type of marketing. Videos can be used to show customers how your products or services can solve their problems, allowing you to take your brand to a new level in the minds of your clients.
3. Create an emotional connection:
Videos are powerful because they connect with people on an emotional level. They can make people feel something– whether it's how great you are or how awesome your product is– and that's exactly what marketers want to achieve in their sales messages. A great video can make your audience experience a myriad of emotions – be it joy, sorrow, anger, or love.
4. Videos are easy to create:
Thanks to inexpensive video production online tools, it is easy to create and edit videos. These online video editing websites greatly enhance the quality of your videos, appealing to a wider audience and increasing viewership. Anyone can use video editors, and there's really no excuse for not making videos a part of your marketing strategy. They're also relatively inexpensive to produce, and it doesn't require too much time or effort to create excellent video content.
5. Videos are the best way to serve multiple purposes:
Video marketing is an excellent way to communicate with multiple audiences across different demographics and regions worldwide. Because videos are universally understood, it's possible to make one video that appeals to just about everyone. Also, videos can be used for many types of social media platforms and blogs as well as on your own website and emails. Videos are a great way to make sure that people see what you want them to see when they're looking at your various online channels.
6. Easy to share:
The power of social media is undeniable, and this means that it's also important to create videos that can be shared easily. People are far more likely to share video content because they think it will be interesting, fun, or useful to their friends. People like sharing videos, which is why they have become such a powerful marketing tool. They're also able to be shared through social media channels like Facebook, YouTube, Twitter, and LinkedIn. Make sure you share videos across all channels and contacts to widen your reach.
7. Video marketing improves your search engine rankings:
It has been established that videos have a tremendous chance of increasing your website's ranking. Search engines prioritise video-based content when determining the most valuable content for any given internet search. You can attract more people to visit your site when you use video content than only text-based content.
There is a great deal of evidence to suggest that video marketing improves your ranking in search engine results. This raises your chances of being seen by more people searching for information about a particular topic. Moreover, high-quality videos made using a video editor tend to rank higher on social media platforms such as YouTube. This would vastly improve the likelihood of reaching more people.
8. Boost your conversion rates:
Videos are capable of driving a significant amount of traffic to your website, much more than other conventional forms of online content. Video-based content can improve your conversion rates as well. People are more likely to convert when they view an insightful and engaging video. They are also likely to spend more time on your site because they are more interested in what you have to say. A higher conversion rate means higher sales and bigger profit margins from your business venture.
9. Videos are great storytelling tools:
Videos allow you to tell a story that you might have trouble telling in any other medium, and this is a great way to connect with your audience. You can create engaging stories that help people understand what makes you different or why your product or service is better than the competition. Everyone enjoys watching a well-made video and they are a good way to keep people coming back for more.
10. Increase the RoI of your online marketing strategy:
The fact that video marketing is effective in a variety of different ways means that you can expect it to have a positive effect on your overall online marketing strategy. You can expect to see a far greater return on your investments with this content form since it is likely to positively impact your campaign. With your marketing strategy sorted out, you will be able to focus on other aspects of growing your business.
As you can see, there are numerous reasons why video marketing can be a great addition to your overall marketing strategy. If you are not yet using videos as one of your primary forms of communication with prospective customers, it is time to start doing so right away! You'll be glad you did.