Manual and Professional Method For EDB to PST File Conversion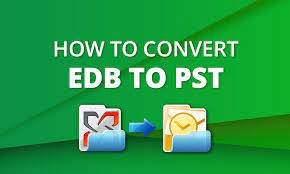 Description: Actually we elaborate step by step method to the whole EDB to PST file conversion using manual and professional.
Free Exchange EDB to PST File Conversion Methods
There were storage groups in earlier versions of Exchange Server, such as Microsoft Exchange 2007, where user mailboxes were preserved. You could quickly build and save a backup for storage groups. However, following Microsoft Exchange 2010, storage groups were replaced with databases, making maintaining a brick-level backup of Exchange data more difficult. To address the backup issue, Microsoft has added new techniques to the Exchange framework that allow EDB to PST file conversion.
PST File vs. EDB File
EDB- The various user mailboxes generated in the Exchange Server are stored in an Exchange database (EDB) file. A single Exchange Server can have numerous Exchange database files.
PST- A PST file is a storage location for Outlook messages and other mailbox contents. It is automatically created when you establish an Outlook profile.
More information on EDB files
The Exchange Database (EDB) file is the main file that stores user mailboxes and folders in a B-tree structure.
Priv.edb: The EDB file Priv.edb was created to save the main mailboxes. A single EDB file can include many mailboxes.
Pub.edb: In earlier versions of Exchange, this is the EDB file that saves all of the information in the public folder.
STM files: STM files keep the attachments separate from the email messages, reducing the size of the EDB file.
Information about the EDB files that you should know
Exchange Server uses the Extensible Storage Engine, often known as the JET Blue engine, to store and retrieve data from the EDB file.
Exchange Server has built-in program like ESEUTIL and ISINTEG that can fix minor corruptions in the EDB file.
Using the New-Mailbox Export Request cmdlets, you can directly export the contents of EDB files to a PST file.
The Reasons for Converting EDB to PST
There are a variety of reasons for EDB to PST file conversion, including the following:
You wish to retrieve data from an EDB file that has become corrupt.
To minimize the amount of mailboxes and increase server performance.
To conserve space in the storage (and avoid extra expenditure on infrastructure)
Exchange mailboxes must be backed up
Do you need to back up certain specific emails or mailboxes?
Do you want to move some of your mailbox data to another location?
In order to comply with legal or regulatory obligations, data must be kept for a period of time.
To lessen the likelihood of EDB file corruption and Jet problems
To convert EDB to PST, there are a few manual ways and one automatic tool-based method.
Use the ExMerge Tool for conversion.
Using Exchange Admin Center, convert EDB to PST.
Using the Free Tool to Convert EDB to PST
ExMerge Tool to Convert EDB to PST
The ExMerge program copies Exchange objects to a PST file, which you can then import into the destination Exchange Server. The ExMerge program's ability to integrate Exchange data content makes it a valuable tool for Exchange to PST conversion. This solution, however, is no longer effective because it only works with previous versions of Exchange.
Using Exchange Admin Center, convert EDB to PST.
The quickest way for EDB to PST file conversion is to use this procedure. Here's how it works:
As an administrator, log in to Exchange Admin Center.
Navigate to the Permissions tab and then to the Admin Roles section.
Go to Recipient Management and click (+) under admin roles.
Click the (+) option beneath the Roles option in the Role Group wizard.
After selecting the Mailbox Import Export Role, tap on add button. Then press OK.
Under Recipient Management, you can now see the Mailbox Import Export role.
Go to recipients, mailboxes, and select any mailbox you want to export. Then, select Export as PST file by clicking more (•••).
Export a mail box.
Enter the location of a shared folder.
After conversion, select a folder for Emails. Finally, press the Finish button. The contents of the mailbox will be transferred to a PST file.
So, these are the two manual techniques for directly EDB to PST file conversion. However, you can see how complicated they are, particularly for busy Exchange administrators who may not have enough time to manage EDB to PST file conversion. As a result, these strategies are ineffective for them.
EDB to PST File Conversion Using the Software
You should utilize DataHelp for EDB to PST Converter, which is the most recommended EDB to PST converter tool by Exchange specialists, to convert your data more efficiently and under complete control. It can connect to the offline exchange database and convert content to various formats, as well as migrate content straight to different platforms. The following procedure will give you an idea of how it works:
When you start the software, you have three options for adding the dismounted exchange database:
Go to the File menu and select Add Source.
In the tool bar, click the Add Source button.
Directly on the home page, click the Offline EDB option.
By default, the Offline EDB file option is chosen. To proceed, click the Next button.
Click the (•••) button to open the EDB file in its current location. If you don't know where you are, there is a specific Search button. The EDB file can be found using the search feature on any drive or folder.
You have the option of choosing between two scan modes:
Scanner Standard It is appropriate for a standard scan.
Scan in Depth It's good for Exchange files that have been significantly corrupted.
The exchange file is scanned and added as a source by the utility. Finish by clicking the Finish button.
The EDB file is located in the source directory. You can access any of its folders, select an item, and view a preview of it. Click the PST file option to add a destination.
If the folder already has a PST file, choose the second option, Existing PST file. Otherwise, click Next after selecting the first option, Create New PST File.
Provide a suitable location for the PST file, as well as a new name. Then press the Next button.
It's time to make the PST file. Finish by clicking the Finish button.
The conversion process is simple, with choices such as drag-and-drop, copy-and-paste, and export. You can execute the conversion using any technique. Following the conversion, the program generates a detailed report detailing the migration status of each selected item.
The updated data is visible in the PST file.
Final Thoughts
You can choose to either battle with exporting single mailboxes one by one or enjoy the easy migration with Datahelp for EDB to PST converter application after collecting complete information about both the manual and automatic ways to use EDB to PST converter. It can also be used to fix an Exchange database that has become corrupted. Exchange Server 2019, 2016, and previous versions are supported by the software. It is a highly user-friendly program that can be used by any user in your organization to efficiently do both recovery and migration.