Huawei Mate 30 Pro VS iPhone 11 Pro? A Short Comparison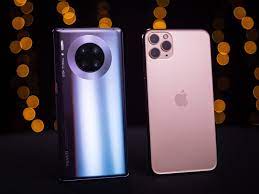 Huawei Mate 30 Pro comes with a sleek design and an amazing quad-camera setup having 10× hybrid zoom features that do not miss any action. Also, the Mate 30 Pro is built with amazing autofocus and a sensor that contributes to the images produced.
The iPhone 11 Pro comes with a Super Retina XDR OLED-enabled touchscreen with a size of 5.8 inches. Besides, the size of the phone makes it suitable for gaming, movies and surfing the internet. Interestingly also, it is designed with oleophobic coating for screen protection and scratch-resistant glass.
Comparison
| | | |
| --- | --- | --- |
| | Huawei Mate 30 Pro | iPhone 11 Pro |
| Design | Visually more appealing and fabulous gradient colors | Immersive looking screen, minimal screen, and premium feel |
| Camera | 10× zoom, 40MP wide-angle, 20MP ultra-wide, 8MP zoom, and time-of-flight sensor | 12MP back cameras, smart HDR processing, and superb night mode |
| Screen size | 6.47-inches with FHD × OLED screen which is essentially taller | 5.8-inches with Super Retina XDR OLED screen with a resolution of 2436 × 1125 |
| Performance | Kirin 980 chip | A13 Fusion chip |
| Battery and perks | 4200mAh battery power | 3046mAh battery power |
| Charging | Wireless charging has "reverse" charging that can charge wireless-chargeable devices at the back | Wireless charging |
| Memory | 128GB and 256GB | 64GB, 256GB, and 512GB |
| Security | 2D camera with an in-display fingerprint sensor for security | Facial ID 3D scanning |
Advantages Of The Huawei Mate 30 Pro
Fast charging and excellent battery life
Sleek curved-screen design
Accurate HDR-capable display
Excellent image quality at all times. It is adjudged as the best ultra-wide-angle camera phone in the marketplace.
Clean and smooth video stabilization
Powerful chipset
Disadvantages Of The Huawei Mate 30 Pro
It lacks a video jack and stereo speakers
Poor video recording
It is not preloaded with Google apps or other Play services support system
Only available in China, that is, the Mate 30 Pro is limited in global availability
Proprietary memory slot
Advantages Of The iPhone 11 Pro
Good battery life
High-resolution and high-quality HDR OLED display
4 GB RAM promotes its fast performance
It is waterproof for up to 4 meters for about 30 minutes
Easy handling
Connectivity options like Bluetooth, GPS, Wi-Fi, USB, 3G, and 4G
Triple-lens camera with wide and ultra-wide angle
Dual SIM system – one eSIM and one nano-SIM
Belongs to the Gigabit-class LTE
Quick Face ID authentication for security purpose
Disadvantages Of The iPhone 11 Pro
It is a bit heavyweight
Does not come with an Infrared
No Wi-Fi direct
No FM radio
Non-removable battery
No temperature sensor
Shopping Advice
iPhone 11 Pro is built with amazing features that make it the toast of anyone. Generally, both Smartphones are close in terms of quality with one being advantageous than the other in certain areas.
Depending on your budget, the iPhone 11 Pro is currently sold at $999 while the Huawei Mate 30 Pro can go for $624.50, making the Huawei Mate 30 Pro brand more pocket-friendly than the iPhone 11 Pro brand.
However, for both Smartphones, the user's preference and the budget plays a big role in choosing what works for you.