Everything You Need To Know About Smart Glass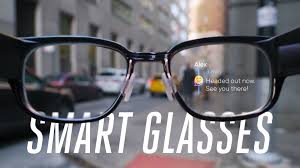 The development of technology has brought about many changes in the world of gadgets. Every year, we see a new wearable gadget being launched. These gadgets come with smart sensors that connect to the internet for data exchange.
If you take a look at the number of connected wearable gadgets available worldwide, then you will realize that the wearable market is expected to see significant growth, it is estimated that this industry will grow by 1.1 billion by the end of 2020.
 Smart glasses are considered the next breakthrough for wearable gadgets. It basically puts valuable features in front of the eyes. So, the question is, what is smart glass and how does it work? Well, read on to explore all these.
What is Smart Glass?
The smart glass is also known as light control glass [LCG], switchable glass, or privacy glass. It makes the static material become alive. Smart glasses control various kinds of light, including UV, IR, and visible light. Other than that, the switchable glass products allow materials to switch from clear to shaded or opaque.
Additionally, the privacy glasses aim at providing a seamless blend of human vision with the virtual world. Some innovative designs and models are also available for smart glasses in the wearable market.
What are smart glasses used for?
The main aim of smart glass is to provide a life monitoring service as well as develop a platform for taking real photos and clips. Smart glasses are basically created using augmented reality [AR] technology. It is there to help you with your daily business.
How do smart glasses work?
Smart glasses technology can control a wide range of light such as UV and IR with electricity. Through the help of electricity, the glass can be switched from opaque to transparent.
The smart glass consists of a film interlayer that can retrofit onto glass using polymer-dispersed liquid crystal [PDLC] or suspended particles device [SPD]. The film interlayer has a PDLC or SPD formulation coated between two sheets of materials that are transparent.
Top applications of smart glasses
These smart glasses have received a lot of attention worldwide. They are considered the next big technological trend now and for many years to come.
Here are some industries that are incorporating the use of smart glasses.
Smart Glasses are increasingly becoming the most intelligent choices for shading and temperature control in the automotive sector. The smart glasses that contain SDP allow the user to see clearly through windows and sunroof. It reduces the solar rays that may cause skin damage and deterioration of interiors.
The smart glasses are also used in the hospitals to do away with the need for traditional curtains and drapery that may contain bacteria. These bacteria can cause the spread of disease. Some hospitals are currently using the modern technology of smart glasses to help them maintain the safety of their patients.
Final words
Smart glasses are increasingly becoming popular. Some of these smart glasses are easy to use as they have apps to help users control them. So these apps can help you take full control of the smart glasses.