4 Best Gadgets That You Need To Know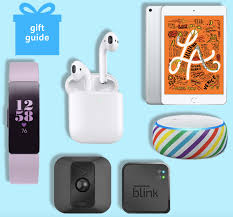 Technology is everywhere, you can see it in your office, house, streets, and even in the most secluded areas around the world. Technology made so many great things for everyone, it helped people to communicate with each other easier, it made transportation accessible and much more. Technology will continue to improve human living
Imagine a world without these types of technology or gadgets, will you think your life will be harder without the help of these technologies? The answer to this question may depend on each person's scenario or activity in life. Many people enjoyed life because of the convenience a technology or gadget can provide and here are some of the best gadgets you need to know.
Lenovo Smart Clock With Google Assistant
Of course, you can have a simple clock and hang it on your wall or place a classic type clock beside your bed. But you can also buy this smart clock with google assistant made by Lenovo. It is very clever and at the same time cute because of its google assistant feature. This gadget is not just an ordinary digital clock that will just display time and date.
It has a feature just like a tablet that you can swipe through screens which will show you the calendar, weather, and also your commute which very interesting. It can also do notifications and alarms for your meetings and future activities. The good thing about this smart clock is that if the alarm goes on, you can just smack the top of the clock to turn it off.
There is a feature that you will be able to change alarm tones, set snooze time, or go for a sunrise mode that will increase the brightness of the display. The Google Assistant on this Smart clock, you will experience the same classic voice and you will be able to experience all the features that a Google Home mini speaker which is very great.
Mophie Juice Pack Access
If you are having problems with the battery life of your phone, this simple portable gadget is perfect for you. It is a portable charging case that was built mainly for Apple iPhones. The good thing about this clever charging case is that it does not cover the Lightning port.
That means you can still charge your phone while you are listening to your wired headphones. And this portable charging case can provide an incredible 31 hours of battery life to your iPhone. The case is very durable that can protect your iPhone to any impact.
Waverly Ambassador Translator
Traveling will not be a problem anymore especially if you are having a hard time using different languages. The Waverly Ambassador Translator will able to translate any language on the spot which is very handy. Right now, you will not have any more problems roaming around in a strange place without any knowledge about their language.
Tag Heuer Connected Modular 45
If you wanted luxury and technology in one place, you should try this Smartwatch, the Connected Modular 45 made by the famous Tag Heuer brand. It has the design of most luxury watches that you can have right now like the Omega Seamaster, Blancpain Fifty Fathoms, Montblanc Timewalker, and much more.
Tag Heuer manages to create a very unique smartwatch that balances technology and classic design. This smartwatch is running with Android Wear OS which means there will be a lot of applications you can use with it.
Takeaway
Technology and Gadgets will not stop improving and in the near future, you will be experiencing a much more improved gadgets and technologies. Listed above are just some of the best gadgets you can have right now. If you think you are having a hard time with your life right now, then it is time that you need to have a clever gadget to accompany you.