Four Reasons You Need Your Own In-House Laundry Service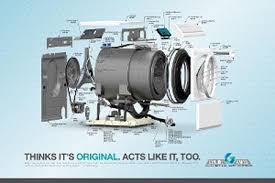 If you manage a business that produces a lot of laundry, in turn, you have a high laundry service need. As the decision-maker for your small or large business, this demand for laundry service and laundry parts comes down to two options, send out your laundry or build and maintain an in-house laundromat. Multiple factors can determine the ideal choice for your business. 
These factors can include the space available to you, the value of your real estate, the volume of laundry produced, and the cost of an in-house laundromat operation. Larger institutions produce a lot of laundry. These include hospitals, universities, and military institutions, to name a few. In most cases, having a delivery laundry service may allow more quality control of long-term cost savings. However, large hotels, for example, benefit greatly from having an on-site laundromat service.  
Managers of midsize businesses often can't afford to justify the upfront cost, but we've looked at the benefit of an on-site laundromat fits in most business plans over the long-term. Your business could benefit significantly from the following considerations, read on and imagine the advantages.
#1 Easy Installation and Operation
Nowadays, with new technology commercial laundry equipment and laundry parts are easy to install and maintain. A lot of small business can significantly benefit from an in-house laundromat. In particular, small businesses like salons, veterinary, clinic, gym, or restaurant can greatly benefit. No specialized training is needed to operate commercial laundry equipment. It is a misconception that commercial equipment requires specialized training. No training staff is needed. Depending on the model you choose, most commercial laundry washer and dryers require no more specialty training that an at-home appliance. It is as simple as using the washer at your local laundromat.  
#2 Long-term Savings
The availability of semi-professional washers and dryers allows all business types to be able to benefit from in-house laundromats. Commercial laundry equipment now has a smaller footprint than traditional commercial equipment. Installation is a lot simpler with new soft-mount design. Moreover, these new semi-professional machines last three times longer than an at-home appliance. Overall, new commercial laundry equipment delivers reliability and long-term cost savings to your small business.
#3 Quality Control
In most cases, the weekly cost of running your in-house operation will be significantly less than the cost of outsourcing your laundry needs. Furthermore, in-house services give a longer life to your linen products and fewer lost or damaged items. Outsourcing your laundry, in the long run, causes more problems than not.  
Replacing linens can add up over time, especially if you in need of weekly laundry service. Maintaining quality, such as investing in quality linens, can be very expensive. And it can be essential to have a well run in-house laundry operation that extends the life of the linens you invest in. Your business will be able to cut costs over time significantly. Quick turnaround allows your business to keep consistent quality and stock of all linen product. This can also help in reducing upfront costs, replacement costs, and because you have fewer linens, you can save on storage too.
#4 No Late Deliveries
Even among the best commercial laundry companies, their operations are large, and often service is not as expected. There are many moving parts in employing a larger commercial laundry businesses when compared to having your own in-house laundromat. The less moving parts, the less likely something is to go wrong.
The more moving parts, the more opportunity there is for something to go wrong. A change in schedule or holiday hours could make a delivery late or a mistake where you lose some of your order. Since in your in-house laundromat is contained entirely in house, there is a lot less that can go wrong with your linens. Laundryparts.com is the parts house that can help you maintain this cost-saving part of your business, learn more about them here.