How Digital Marketing is Changing The Visage of Today's Commercial Sector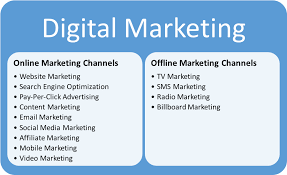 With the innovation of highly advanced technology and the preponderance of digital marketing, every industry is doing all they can do to keep pace with the growing market. This is an era of digitization and each commercial sector is proliferating at lightning speed and so does the competition. Everyone wants to get noticed by their probable clients in order to gain a large clientele base. In the last few decades, the world has seen a paradigm shift from analog to digitization. Millennial users in order to get thorough information about a particular subject go online and search it through search engines and social media and the whole process is so convenient and reliable that people are confiding on it, hence marketing or promotion of your business on a digital platform is the best way to reach out to your targeted clients. When it comes to promote your business, businessmen are changing their traditional course of action into digital marketing.
If you are thinking when you have already hired a marketing team, why do you need to take extra burden of investing in digital marketing? 32% of small business invests in social media only, 25% are investing in online marketing and 17% are investing in SEO. Whether you are already a highly reputed and recognized business, in today's era you shouldn't overlook the importance of digital marketing of your business.
Why digital marketing is important?
To get visibility in an exceptionally pervasive and equally lucrative online market place, you need to incorporate a befitting digital marketing strategy in your business module. Digital modes of communication are more adaptable, quicker and result-driven, and benefits are applicable to both business and consumers. The best element of online marketing of your business is it offers equal opportunities to all businesses and thus empowering them to grasp tight hold in search engines and gain more traffic into their website. Surprisingly all the traffic you may get on your website may not be fruitful for you and with digital marketing you reach out to those who are in need of the services you are offering and looking for it online, thus making your business visible among your targeted audience.
How digital marketing helps?
Both small and medium scale business now has an asset to perform sales and marketing process that was earlier accessible to only giant brands. The most essential benefit it offers is its ability to engage with multiple customers at the same time, which is not possible in offline marketing. The importance lies in offering you multiple ways to establish a personal rapport with your customer base. The traffic your website receives converted into leads, supporters, subscribers, deals and sales. If it finds no conversion, all your activity goes in vain and this is the reason why businessmen are streamlining their digital advertising efforts towards conversion rate optimization, making it their top most priority.
It helps you generate better revenues
Along with better conversion and traffic-driven solution, digitalized promotion of your business helps you increase your clientele base and hence generates more profits. With rapid expansion of mobile or smart phones, it has become a very convenient way to outreach your clients without any hassle and you become easily accessible to your clients.
Whether you are serving local regions or targeting the international market, your clients can reach you only through Google and other search engines as well as social media platforms. So, investing in the best SEO service or digital marketing platform will only enhance the realm of your business and help you connect with your clients without putting any extra efforts.