Which one is Better Iphone XS or Google Pixel 3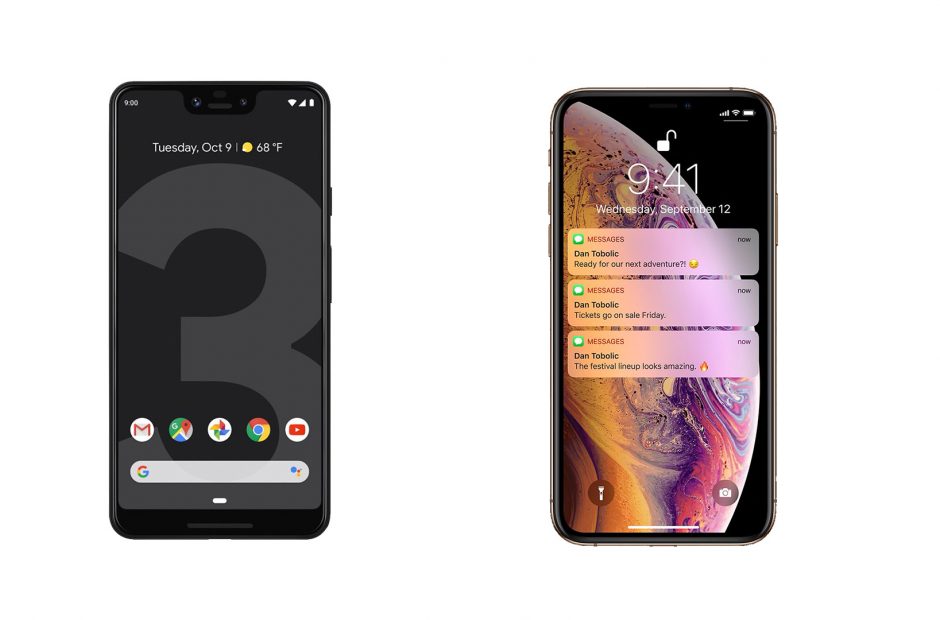 The battle of the phones is indeed the battle of the brands.
An unpopular opinion, but I believe that many people support a brand when they voice their opinion regarding a particular phone. I might be wrong. But hey, how many times have you come across a person who has actually given you a logic behind him liking a phone? No one will state the specs or the features that make a phone likable. It's like you subscribe to an Internet service provider on the basis of how the website looks. I mean rather than stating the Frontier Internet speed is commendable, for instance, you fell for the website's look. Anyhow, coming back to the topic, iPhone XS and Google Pixel 3 are hot selling mobiles these days.
And we bring to you a comprehensive guide to help you make a choice between the two. The comparison is based on the following features:
Design
Talking about the design, both iPhone XS and pixel 3 differ in their definition of a premium phone. Pixel 3 comes in 5.5-inch screen size with an 18:9 panel that sandwiches between a pair of bezels. These bezels are not that thick but you cannot categorize as slim either. The sides incorporate a glossy aluminum. To be honest, the whole look of the phone is a bit dated. On the other hand, there is an iPhone XS. It's nearly an all-screen phone that incorporates stainless steel around the sides.
However, there are a couple of similarities in the design including the glass back in both mobiles. Which means that both of them have the ability to be charged wirelessly. But the Pixel 3 is lighter than iPhone XS. But that does not make a qualifying feature one would consider while purchasing a mobile.
Display
The Pixel 3 supports an OLED display. However, it is not one of the finest screens in the world of smartphones. But points to Google for bringing about this much-needed change in its mobiles. Although XS, too, supports an OLED panel, it is has a brighter display than Pixel 3. Apart from that, it is more accurate than the Pixel 3 as well. If you go a bit deep into further specifications of the brightness, so iPhone supports 604 nits. On the other hand, Pixel 3's screen comes with 410-nit brightness. Moreover, the color accuracy with a 0.22 score that iPhone boasts is much more than Pixel 3's 0.44 rating. In case you did not know, the closer the number to zero, the better. However, Pixel 3 does have an edge over iPhone in one thing. It offers multiple profile displays and that too for more or less saturated colors. iPhone lacks this feature.
Performance
Google put in a lot of effort to compete with what was 2018's best android phones. However, it failed to keep up with the raw speed that Apple's hardware has to offer. The Pixel 3 supports Qualcomm's Snapdragon 845 processor and offer 4GB of RAM. Although this is the same storage as iPhone XS is offering but the difference lies in the A12 Bionic Chipset. The bionic chipset proves to be much faster. However, Google's Pixel 3 steals points from iPhone XS for graphics. Pixel offers better graphics with a score of 4,400 on 3DMark's Sling. Whereas the iPhone only supports a score of 4,244.
Camera
iPhone XS has not just one but two cameras at its back. Both of them are 12-Megapixel each. While one camera has the standard lens, the other has a telephoto. On the other hand, Pixel 3 only has one camera. But this does not make Google's phone a bad choice. Because the camera in this phone is capable of pulling off almost all the tricks that the XS can. This includes depth of field portraits. In fact, you will be surprised to learn that the Pixel 3 offers a couple of more tricks than iPhone XS. Top Shot is one of the few additions. Google's phone even offers more color and detail to the pictures in portrait mode as compared to iPhone XS. The Pixel 3 would also be your first choice if you are a selfie fanatic. The front camera is better than the XS.
Battery
Apple phones have a bad reputation when it comes to battery life. Anyone who owns iPhone would know the struggle of charging the phone again and again. However, to many peoples' surprise, the XS lasted more by 1.5 hours than Google Pixel 3 while both were used to stream websites endlessly. This was surprising for all those who own an iPhone already.
With this, the list of the important features to consider when making a purchase comes to an end. However, there are many more factors that you can consider including software. As far as the voice quality is concerned that depends on your telecommunication company. If you have subscribed to Frontier phone service, you won't be disappointed.
Hope this article helps you in making a more informed decision. For us, the clear winner is Apple's iPhone XS.