Which is a Better Investment Between an FD and an RD?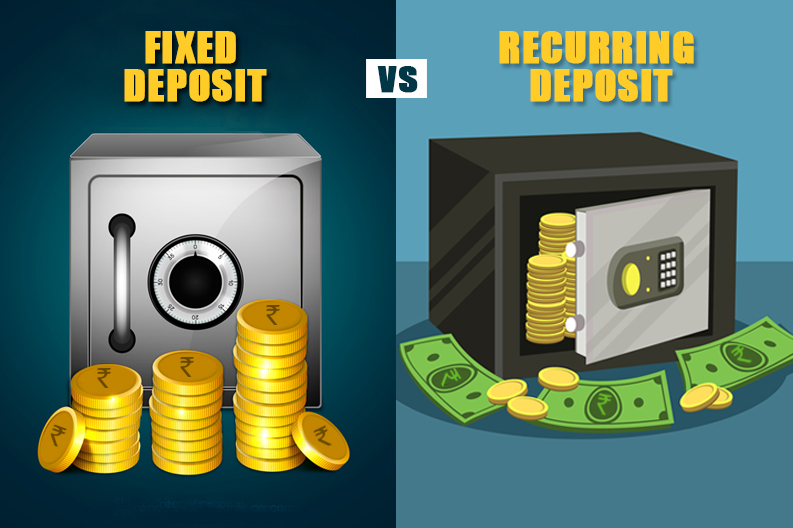 Most of the times, investors in India face a hard time deciding between fixed deposit (FD) and recurring deposit (RD). Besides being risk-free investment products, both of these share similarities in their features and objectives. One significant benefit is the fixed returns on the investments.
Understanding fixed deposit: As the name suggests, fixed deposits are fixed investments for a specific tenor with a financial institution. The amount should be deposited at a time. The investor cannot withdraw the money before the date of maturity.  
Understanding recurring deposit: Unlike FDs, recurring deposits allow an individual to make regular monthly deposits of a fixed amount in his/her recurring account. All these deposits mature on a specified date.  
Similarities between RD and FD:
These are the two best investment options in India which remain unaffected by market fluctuations, and hence, are safer. As these are fixed income products, investors earn the principal amount along with the interest when policies mature. Also, interests earned on both FD and RD are taxable at the same rate if you fall under the specified tax slab.   
However, if you want to invest in either FD or RD, you must be aware of certain differences to make the best choice.    
Fixed deposit vs. recurring deposit
Generally, a lump sum amount is deposited in case of FDs which often starts from Rs. 25,000. However, RD amounts can be as low as Rs. 500 per month. Fixed deposits can be utilised for medical emergencies or bigger financial expenses. However, recurring deposits aim to imbibe a disciplined financial habit via small yet regular savings. Nonetheless, it helps in long-term wealth creation as well.
FDs come with a fixed rate of interest which is always higher than regular savings. Renowned NBFC, Bajaj Finserv offers up to 9.10% of interest on FDs. The interest amount is deposited in the investor's account per month or on a quarterly basis.  
The recurring deposit interest rates are same as FDs. But investors will have more ROI with FDs than with RDs as interests are compounded.
Also, if an investor delays to make the monthly deposit within its due date, interest rates get reduced and become insufficient to attain the maturity value. The financial institution will deduct the difference in interest from the matured amount as a penalty.
Since FDs are one-time investments, their tenor usually ranges from 12 – 60 months. Again, tenors of RDs usually start from 6 months and can go up to 10 years.
As an investor, you must consider your income and liquidity needs before deciding on the tenor.
Besides these three differences, one additional benefit of investing in fixed deposits is that people can avail loans against FDs. During financial emergencies, most people tend to break their fixed deposit which, in turn, reduces their interest amount and hampers the investment plan. Here, the best option is to avail a loan against fixed deposits. Leading NBFCs like Bajaj Finserv disburse the credits within 24 hours of approval. Borrowers can avail up to 75% of their investment without breaking it.
Furthermore, Bajaj Finserv brings attractive pre-approved offers on a host of financial products like home loans, personal loans, business loans, etc. Pre-approved offers are customised to make the whole process of availing funds easier, simple and less time-consuming. Check your pre-approved offers by providing a few specific information like name and contact number.
The bottom line is investing in an FD is more profitable than opening a recurring account or any debt fund, liquid funds, etc. You can approach a prominent financial institution, check out their features and benefits before deciding your investments.