The Benefits of leveraging Professional Credentials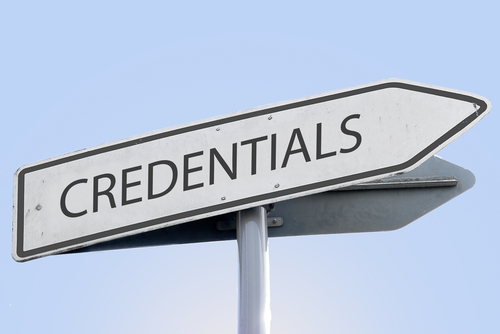 Seeking a job and looking for career advancements are two extremely strenuous tasks that one has to undertake in life. People are ready to go till any length to achieve a fulfilling career. Some focus on their professional qualification while others believe in gaining as much experience as possible in their field.
One of the most effective measures that one can take for reaching new heights in their career is by earning a professional credential. It has actually been proven that professional credential can play a huge role in one's success.
The purpose of professional credentials is to get your knowledge and skills attested by a genuine, reputed credentialing body in order to enhance your credibility as a professional and prove your dedication towards your field of work.
As a matter of fact, some of the most topnotch designations require you to attain a professional credential over and above your degree or diploma. Believe it or not, many job postings that you shall see nowadays on different job portals will mention professional credentials as a 'mandatory' requirement. So basically, there is a growing trend of employers wanting to hire professionals holding relevant professional credentials. They think of it as a way to check someone's commitment to their profession.
Moreover, there is a theory that says, professional credentials are not only beneficial for freshman aspiring to start their careers with a bang but, is also for established mid-career professionals who are seeking better opportunities in their work lives and feel the need to revive their careers by updating their knowledge and making their skills even more marketable. Further, the more high-ranking your designation is, the more demanding your job shall be, therefore, upgrading your expertise is always a good idea for advancing in your career.
The nature of Professional Credentials
There is no one type credential in the market as there is a plethora of them that have been helping out professional in building a successful career.
The duration, as well as the value of every credential, might depend on the essential characteristics of the industry that it belongs to. Furthermore, you may be required to pass some painstaking test as well as own some verified experience in order to become eligible for some professional qualifications. There are a few professional credentials which need you to possess a degree or diploma if you wish to pursue them.
Also, it can be confusing for someone to pick the right credential out of the enormous bulk that is available out there. Finding an appropriate credential can be a daunting task, however, if a person a clear about the goal that he/she is aiming to achieve, it should become easier. As I mentioned earlier, there are different professional credentials for solving different purposes. For instance, if someone wants to excel in the field of data science, depending on their level of knowledge and experience in that area, they would go for a pertinent professional credential from a renowned institute that specializes in Data Science credentials.