Why B2B2C is beneficiary for the suppliers and retailers in travel industry

B2B2C or Business to Business to Customer is an e-commerce platform for the industry and financial organizations to outreach the broader market and customers by collaborating with consumer-oriented product delivery companies. Let's make it less confusing and define it in layman's term- when one business creates a product or delivers a service for the end customer's, instead of delivering it directly to the customers, they collaborate with a delivery channel to sell the product the end-customer.

In travel and tourism industry, B2B2C White Label Solution is very prevalent and plays the ultimate role in running the business. It can help a company market its product through another company whose expertise is selling the product and services online. This sort of business model is beneficiary for both the business involved, for one, where travel agencies are turning up their exposure to the market and increasing their revenue and on the other hand, the company which is providing the products to the intermediary channel.
The features of B2B2C travel portal are:
Buyer oriented: It is the most desired marketing tool for the organizations, as it serves the need of both retailers and customers, who are eager to buy quality products from the global suppliers.
It vets and verifies suppliers and their products, so that the small business dot have to face lose in the market and become capable of selling quality products to the clients.
Your web portal can be able to suggest related products on the product page. It is a beneficial tool for the business as it increases the cross-selling chances and thus helps in gaining more revenue.
One of the perks of B2B2C tool in your business, is it widens the potential consumer.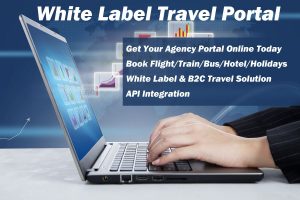 Over the years, B2B2C has become a nonnegotiable part of the travel industry. Travelers are taking advantage of the website or mobile applications provided by the OTAs for travel booking purpose. In such portals, they find a wide array of travel services and products ranges from airlines, hotels, bus, train or cruise, holiday packages and many more. Airlines or hoteliers provide the details of their availability, price, facilities and many such relevant descriptions in the website of the OTA and thus sell their products via a distributive channel. These changing dynamics of the travel industry requires the implementation of such features and tools, which is beneficial for both the alliance organization.