Exercise Caution When You Consolidate Student Loans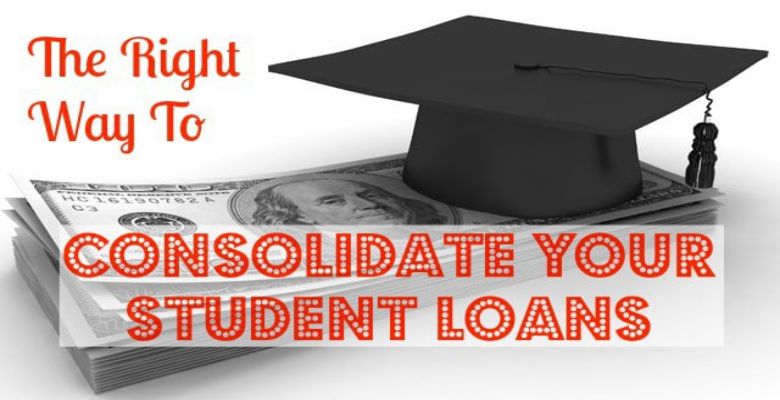 Whether it is your credit card debts or a student loan, you can consolidate multiple loans into one if you want to get rid of it and find some respite if you face any stress in managing your debts.
Most of the graduates, 70% to be precise according to studies, feel the burden of a student loan debt apart from the acknowledgment of a great achievement. Studies also show that:
College grads carry a loan of $40,000 worth of debt on an average
There are about 19% of college grads who have more than $50,000 of debt and
About 5.6% of graduates owe more than $100,000.
That means, if this debt is not managed properly, such feeling will be short lived as it will be transformed into stress. To make sure that you do not increase the stress any more than it already is, you must choose the right company when it comes to student loan consolidation or refinancing.
This is important because in most of the cases graduates that have to deal with student loans usually have other loans to repay as well at the same time. Each semester, they have to take on a new loan either from different federal sources or from a private lender if conditions do not allow you to take on a federal loan.
The pros and cons
Knowing the basics as well as the pros and cons of student loan consolidation will help you to take informed decision and you will be better off when you repay your loans.
Like any other type of debt consolidation, you can roll your multiple student loans into one account of the large amount and at a lower rate of interest usually taken out from a new lender. You will then not owe the original loans anymore and now will have to focus on a single monthly payment that will usually have a new interest rate, payment policy, and terms and conditions.
However, just like any other thing, there are both advantages and drawbacks of consolidating your student loans. You must consider it after weighing both. Since this is a personal choice you must consider factors such as the specifics of the loans you are carrying and wish to take such as:
The loan he types
Rate of interest
The outstanding balances
The new amount offered
The borrower benefits and
Your current financial situation.
Moreover, you will have to make sure whether you want to take federal loans that are issued by the government or private loans that are issued by a bank, any credit union, or any other money lending institution. You must read about student debt consolidation reviews as well to be more informative while making your choice.
As for the positives of student loan consolidation:
It is simple: You will have to deal with a single loan every month making your tracking process even simpler. However, stay away from consolidating private loans with federal loans. Keeping separate loan accounts for the two will keep things simple. All these will help you to avoid missing any payments and therefore avoid late fees or damages caused to your credit.
Lower payments: Consolidation loan will potentially lower your total monthly payments because it will carry a lower interest rate. It will also come with a longer repayment period which is another factor that will reduce the monthly payments by a significant margin. This is very helpful if you do not qualify for repayment plans based on your income or deferment. However, the interest and tenure of the new loan will largely depend on the specifics of your current loans.
Better credit: If you have a better credit history and have made responsible financial choices your credit score will automatically go up. This will help you to get better rates when you take on a new consolidation loan. This is because the lenders will consider you to be more reliable than you previously were making you better offers.
Dodge default: The Department of Education has surveyed and found that one in every ten borrowers default on federal loans. If you have also done so, loan consolidation is the best solution to get your loan as well as your credit in good standing.
As on the downside of student loan consolidation you may:
Lose borrower benefits: Depending on the type of your loans you may lose specific borrower benefits in consolidating your loans. This includes loan forgiveness, deferments, flexible or income-based payment options.
Longer repayment period: If the loan amount is higher and the duration is also long, then in spite of the lowered initial payments consolidation loan can force you to pay more over time and in the end.
Consider variable rates: You may be offered a variable rate of interest instead of a fixed rate especially when you consolidate your private loans with a private lender. These mats raise the interest sometimes dramatically depending on the prevailing market condition and thereby raise your payments significantly.
Consolidating federal loans
Ideally, consolidating federal student loans carries much more borrower benefits as compared to the private loans. To consolidate federal loans it is best to avail Direct Consolidation Loan. This will allow you to have:
Lower payments
A long term often up to 30 years
Fixed rates of interest and
Renewed eligibility for borrower benefits.
This will also help you with deferments and forbearances. According to finaid.org, you will be eligible for this again if you used up the allotted time on deferments previously including economic hardship and unemployment. In short, it will allow you to postpone your student loan payments temporarily.
In order to consolidate your federal student loans you that it is either of the following types:
Direct subsidized and unsubsidized loans
Subsidized and unsubsidized Federal Stafford Loans
Direct PLUS loans
PLUS loans from the Federal Family Education Loan or FFEL program
Supplemental loans for students
Health Education Assistance Loans
Federal Perkins Loans
Stipulations for Consolidating Federal Loans and
Federal Nursing Loans.
Moreover, you will need at least one student loan that is in your grace period or repayment for consolidation.