7 Destinations To Travel To This Fall According To Geoffrey Kent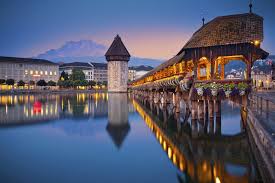 While summer vacations spent frolicking by the beach will soon become a distant memory, we all have fall travel to look forward to. Milder climates, vivid landscapes, and fewer crowds make certain destinations much more attractive this time of year. To help you decide where to go for your autumnal adventure, who better to ask than travel pro Geoffrey Kent. Cofounder of luxury tour operator Abercrombie & Kent, the entrepreneur spends majority of the year traversing the world in search of the best locales for his discerning clientele.
Born while his parents were on safari, Kent seems to have wanderlust flowing through his veins. At 16, he became the first person to travel between Kenya and Cape Town on a motorcycle. Four years later, he founded Abercrombie & Kent with his mother and father, starting with what they knew best: safaris. Since then, the pioneer has grown the company into a worldwide enterprise, operating in more than 100 countries.
Abercrombie & Kent's most notable experience is their private jet journeys. With a small group of no more than 50 people, guests fly in style on a Boeing 757 with lie-flat seats, a dedicated flight crew, executive chef, onboard physician, expert tour managers, and often Kent himself, all around the world. But for those seeking a more intimate experience, their Luxury Tailor Made itineraries are built around your interests and are assembled by some of the best experts in the industry.
This fall, the explorer has his eye mostly on Asia. With humid, and oftentimes unbearable, weather becoming less of a concern, autumn tends to be the preferred time to visit this part of the world. Foliage admirers should make a beeline for Japan—a rising destination amongst tourists—where vivid warm hues really pop all over the island nation, but are most impressive at stunning gardens like Ritsurin Koen in Takamatsu. And with some significant new hotel openings drawing attention to less-visited corners of the continent, here's your chance to visit burgeoning hot spots before they become overly crowded.
Below, Kent weighs in on the seven countries you should visit this fall.
Kenya
MORE FROM FORBES
Civic Nation BRANDVOICE
Three Community College Opportunities That Will Surprise You
Grads of Life BRANDVOICE
More Than What's On Paper: Engineering His Dream Job
Head to Kenya's Maasai Mara to observe one of the wonders of the natural world. Every year more than 1.4 million wildebeest, along with gazelles and zebra, stampede Lion King–style following the rains from the Serengeti to the Masai Mara. Experience luxury in the heart of the migration at the newly rebuilt Sanctuary Olonana. Offering ultramodern bliss, 14 brand new glass-fronted suites offer light, sumptuous interiors, and opulent marble-and-slate bathrooms, as well as private decks. Expert guides lead game drives tailored to your preferences in custom open-sided four-wheel drive vehicles.
Italy
Fall is harvest time and it is celebrated in style in Alba at the International White Truffle Fair (October 6–November 25). The exhibition is in the historic town center, the ideal place to appreciate and buy the best truffles from the woods of Langhe, Roero, and Monferrato. Every Saturday and Sunday in October and November the World Market features cooking demonstrations with noted chefs, a sensory analysis of the truffles, and a wine tasting experience.
Japan
The season for momijigari (leaf viewing) runs from October through November. It's a beautiful time to visit Japan with stunning red maple leaves throughout the country.
Laos and Cambodia
October and November are some of the best months to visit Southeast Asia. This year, we anticipate even higher demand for fall travel in the region as there are several buzzy new hotel openings. In Luang Prabang, Rosewood has opened a beautiful Bill Bensley–designed boutique hotel just outside of the city. Also, the contemporary Rosewood Phnom Penh has recently opened in Cambodia's tallest building and has incredible views across the city.
Bhutan and Nepal
September through November are prime months to visit Bhutan and Nepal with sunny days offering optimal conditions for mountain viewing. Six Senses Bhutan is scheduled to open part of their lodge circuit this fall, with a focus on wellness and contemporary accommodations that still provide an excellent sense of place.